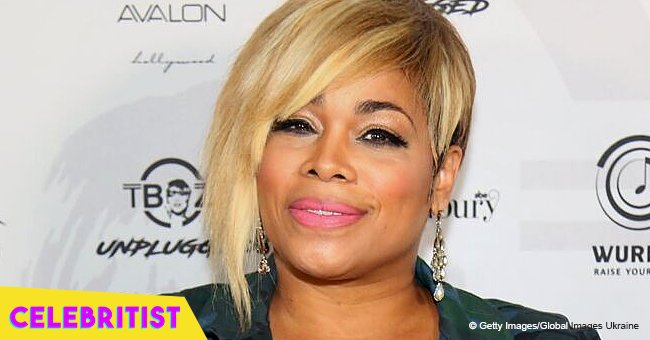 T-Boz melts hearts with videos of son Chance on his 3rd birthday
The American singer, songwriter, actress, author, and executive producer is also a mother to a teenage daughter and a son she adopted three years ago, shortly after his birth.
Tionne Tenese Watkins, better known by her stage name of T-Boz, welcomed a daughter, Chase Anela Rolison, with her ex-husband, Dedrick D'Mon Rolison, who goes by the name Mack 10 when he performs.
But T-Boz also has a young son, Chance, who she adopted three years ago. The proud mama often shows her children off on her social media accounts.
She recently took to her Instagram account to share two video clips, compilations of photos, of her littlest one to celebrate his third birthday.
The two clips, each of 59 seconds, show plenty of photos of Chance, from his early days as a baby all the way up to his birthday.
From hugging the Easter Bunny, eating mango off the seed, showing off a fancy watch, and hugging his mother, there's no shortage of adorable snaps of the sweet little boy.
"Words Can't Express How Much I Love This Lil Being I Can't Believe He's 3yrs Old Now!!! Mommy's Big Boy! Just His Smile Alone #ChanceTheBaby #MyHeart #MommysBoogerButt #Tink#ChanceyPants #TBoz TBeezy #TLC #TLCArmy #July31st Another Leo Lol," she captioned the image.
T-Boz has shared other cute images of her little one before, but only announced that she had adopted a baby back in 2017 in honor of International Women's Day on March 8.
"This is my heart. Looking back on this special day my Lil Big Man turned 1 years old! It's NOT his Bday Today lol babies are so pure! At this stage... they always kiss with their mouth open [first]!" she started the caption on the beautiful throwback image.
Although it was the first time she acknowledged the adoption, she also shared that she has had him since he was born.
T-Boz had been trying to adopt a baby for years, and shared with People Magazine that although it was a tough journey, she would never have done anything differently, given the result.
"I feel the same way I did when I gave birth," she said of adopting Chance 16 years after welcoming her daughter. "It's no different."
The R&B singer was diagnosed with sickle cell anemia when she was just 7 years old, and was told that she would not be able to ever have children. Despite the warning, she welcomed her miracle baby in 2000.
But she always wanted to expand her family, and started looking to adopt a baby.
It was anything but a smooth journey. She found a woman in her home town of Des Moines, Iowa who had fallen pregnant and promised her the baby. But when it came time to sign the papers, the woman stood her up.
When that same woman became pregnant again in 2015, she again promised T-Boz her child, and this time the singer was able to bring her baby boy home with her.
Please fill in your e-mail so we can share with you our top stories!