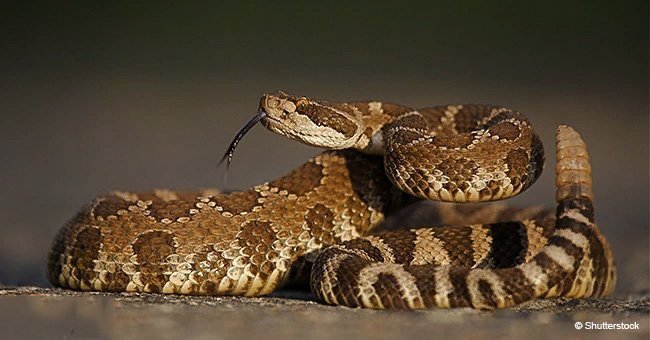 Here's what a giant rattlesnake sounds like when you get too close (video)
A video of a huge rattlesnake was made viral on Facebook and it features the loud hissing sounds that the snake made.
Joseph Hosey – a forester for over seven years – ran into a five-foot Eastern Diamondback rattlesnake. The 37-year-old was amazed at what was in front of him and stopped to take a video.
Hosey was strolling through a forest in Greene County, Mississippi when he came across the reptile.
The snake was blending in and coiled up beside a tree stump. When it noticed Hosey approaching, it started to shake its tail frantically
Follow us on Twitter at AmoMama USA for more stories like this.
Speaking with Fox News, Hosey said, "He was huge. He was the biggest diamondback I've ever seen personally."
The forester shared that he has always been into reptiles even when he was younger. He recalled spending hours studying about them in books from the library. Hosey also shared that he had a few reptiles as pets back then.
With his knowledge of the animal, Hosey knew he had to keep his distance from the rattlesnake.
In the United States, the eastern diamondback is known as the largest venomous snake. It is said to reach up to 8 feet when it reaches its maturity.
Naturally, the snake is silent and likes to blend into the environment. It only makes sounds when it feels danger.
The rattlesnake that Hosey ran into made loud hissing noises, which meant that it felt threatened by the man's presence.
When he reached about ten to 15 feet near the rattlesnake, it began rattling rapidly letting Hosey know that it was best for him to say goodbye to the reptile.
Hosey admitted that he used to catch rattlesnakes for fun, but claimed that he only admires them now from afar since he wanted to set a good example for his children.
More information about the Diamondback can be found on the Mississippi Wildlife, Fisheries and Parks' website.
Please fill in your e-mail so we can share with you our top stories!