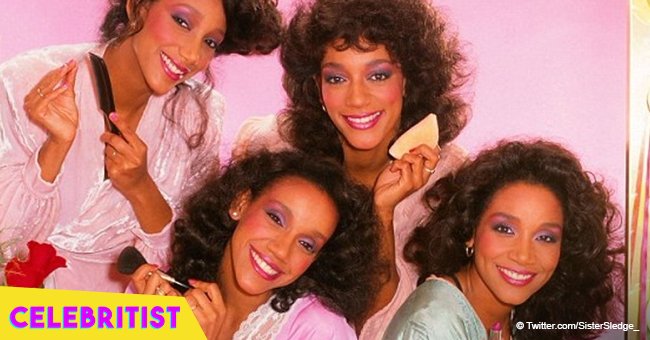 Here is what happened to 'Sister Sledge'
Better known for their hit single "We Are Family," Sister Sledge was one of the most iconic vocal groups of the disco era. However, the sisters had some disagreements over the years, leading the youngest to pursue a solo career and set a feud that lasted for years.
Daughters of Broadway tap dancer Edwin Sledge and actress Florez Sledge, Debra "Debbie," Joan "Joni," Kim and Kathy Sledge were destined to make the stage their home.
The sisters started to perform together from an early age under the guidance of their grandmother, who was a soprano opera singer, and they often put on performances at their church and cultural, political and charity events across Philadelphia.
Their first ever single through a record label was "Time Will Tell" released in 1971 on the local music label Money Back. Their first album, "Circle of Love" was released by ATCO, a subsidiary of Atlantic Records, in 1975. While they enjoyed some success in Europe and Japan with their singles, it was hard for them to chart in the U.S.
In 1979, the group came to a halt in their career. But they connected with producers Nile Rodgers and Bernard Edwards to created what would become their greatest album of all time. "We Are Family," released through Cotillion Records, not only gave the group their first number 1 single on the R&B and Pop charts, it was also certified platinum by the RIAA.
They released more albums in the following years, but none of the singles was able to replicate the success of "We Are Family." In 1989, Kathy, the youngest of the sister and often the lead vocal of the group, decided to launch a solo career. This caused a rift between the siblings.
In 2013, Sister Sledge, LLC (Debbie, Joni, and Kim) took Kathy to court to stop her from using the name "Sister Sledge" to promote her performance. They filed a trademark infringement lawsuit for $200,000 that settled without further incidents but made clear that the three sisters own the U.S trademark for the name of the group.
Two years later, the group was invited to sing "We Are Family" at the World Meeting of Families in Philadelphia, in front of Pope Francis. Kathy was not invited, as revealed on an official statement published on Billboard on behalf of Kathy, that read:
"Although the performance is being promoted as though all four original members of the group will be in concert, sisters Joni, Debbie and Kim have refused to allow youngest sibling Kathy, original member and iconic voice of 'Sister Sledge' to participate in the performance."
Last year, news of Joni's death took fans by surprise. The woman died of natural causes at 60, and while most fans were wondering if Kathy ever made peace with her sisters, Metro UK reported exclusively about it.
According to the publication, Full Force band member "Bowlegged Lou," a close friend of the girls, talked to Kathy and confirmed the sisters had reunited on January 2017 on a tearful meeting.
The man said: "I called Kathy to give my condolences, and although I didn't really want to ask, I still did because I knew the scenario. I said, 'Kathy, did you guys ever make peace?"
The singer, now 59, said:
"Yes Lou, we did make peace. We made peace in January all of us as sisters and I was loving and hugging, with Joni. And the other sisters."
These days, Debbie and Kim continue performing as Sister Sledge, with special appearances from Kathy, who told Black America Web a few years ago:
"Everyone has some madness in his or her family. Our madness happens to be under a magnifying glass. We have our differences. Of course, it (the business) overlaps to it being personal. But, at the end of the day, we will always be family. I would like to think in our case, we're coming to a healing."
The sisters are now in a good place, and fans couldn't be happier for them.
Please fill in your e-mail so we can share with you our top stories!