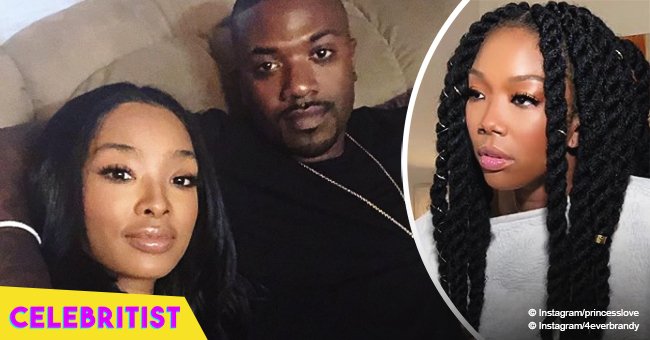 Brandy blasts fans questioning her involvement in Ray J's marriage amid rumors about her pregnancy
It seems like the drama never stops with the Norwoods, and now Brandy has been butting heads with disrespectful fans all over her Instagram comment section.
The new season of "Love & Hip Hop: Hollywood" has brought to light some issues between Ray J Norwood's wife, Princess Love, and his mother and sister. Fans are taking Princess' side and attacking Brandy and her mother, Sonja, for getting involved in Ray's marriage.
The couple welcomed their first daughter a couple of months ago, and while everything seems to be fine now in the family, there were some heated discussions taking place when Princess was pregnant, as shown on the reality show.
After Ray J left for Las Vegas for six days, leaving his pregnant wife alone to deal with the organization of their gender reveal party, she took revenge by calling him a cheater on social media and deleting all his pics from her feed.
The action didn't sit well with Sonja Norwood, who demanded her son to get a public apology from Princess. Brandy ended up getting involved in the brawl, as the three women got into a heated discussion at the gender reveal.
Fans of the show didn't like what they saw, and some of them have been leaving rude messages on Brandy's page. The singer, who recently faced rumors about a pregnancy after gaining some weight, had enough.
Just a few months ago she had to make clear she's not pregnant and is enjoying life and good food after being on a strict diet for seven years. And now, according to screenshots from Baller Alert, Norwood lashed out to a few fans, replying to their comments about her relationship with Ray J on Instagram,
When one fan wrote on one of Brandy's pics "Stay out ya brother business. He married her, let him deal with her." Brandy replied: "you don't know me enough to give me a demand. I don't you so I can't even take you serious."
To keep riling up the singer, another commenter added:
"Your brother didn't marry you or your mother he married precious so let him handle his own Affairs you guys is f****** up his relationship if I was precious I'd leave all you mother f******." [sic]
They clearly mistook Princess' name, something that didn't go unnoticed on Brandy's eyes as she replied:
"her name is Princess. And because you don't know her or her name, your opinion doesn't matter because it's just an opinion - not a fact."
She kept on replying to other fans who tried to use Ray J' past mistakes against him, as she mentioned people shouldn't be judging others on their past when they're trying to "exercise change and positivity."
She continued:
"All we want is for them to handle their business behind closed doors and not let it play out on social media – that's not anyone business."
The drama is still in full swing on "Love & Hip Hop," and fans are hoping to find out that Brandy, Princess, and Sonja made peace before the birth of baby Melody.
Please fill in your e-mail so we can share with you our top stories!