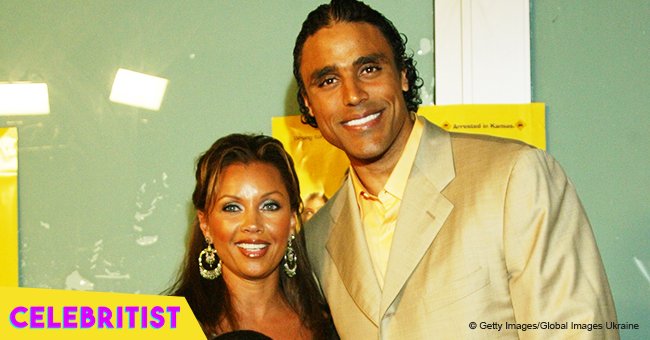 Vanessa Williams & Rick Fox's daughter Sasha shows off her makeup skills in new black & white pics
The actress and her ex-husband share a now-teenage daughter who, like most girls her age, enjoys the freedom and fame of social media.
Actress Vanessa Williams and her ex-husband, retired basketball player Rick Fox, have every reason to be proud of their almost-grown daughter, Sasha, as she grows into a beautiful young woman.
Sasha recently took to her Instagram account to share a three-photo post of images in black and white. In two of them, the teenage beauty could be seen doing her makeup.
She was sitting looking at herself in what appeared to be a large stage mirror, with lights all around the frame.
The caption indicated that a photographer friend had used her as the subject of the images.
In the first shot, she had her hair tied up in a bun on top of her head to keep it out of her face. Her eyes and eyebrows appeared to already be done, and she was applying her lipstick as she leaned in towards the mirror.
She had on a floral pattern robe.
In the third image, Sasha could be seen in a close up, in what appeared to be almost the exact same shot, still giving her lips a dark color.
The 18-year-old recently attended her senior prom, and shared plenty of photos of the special day to her Instagram account.
She wore a beautiful strapless pink dress, with a straight-down cut. She carried an emerald green clutch bag, and wore a corsage on her wrist.
Sasha left her black hair loose around her shoulders in waves, and accessorized with a delicate gold neckace and drop earrings.
The teenager's photos included many of her friends, all dressed to the nines, ready to paint the town red on their special night.
Her mother also shared a photo of herself and Sasha in her prom dress.
Williams' photos showed Sasha in close up, and the teen had opted for a subtle look when it came to her makeup, with natural colors on her pretty brown eyes and a soft pink on her lips.
Her proud papa Fox also also shared an image of her on prom night.
Please fill in your e-mail so we can share with you our top stories!