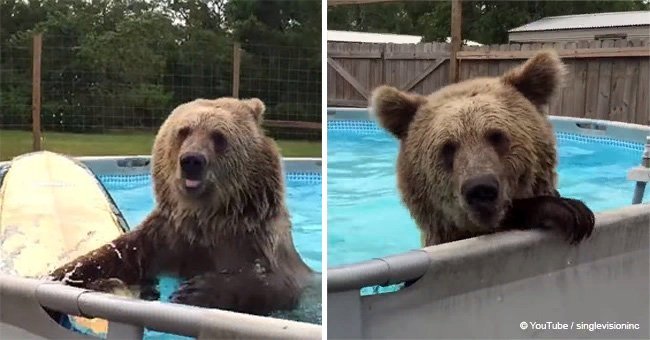 Grizzly bear does belly flops in backyard pool and shares 'Hollywood smile' for the camera

An adorable video of a bear enjoying an early morning in an inflatable pool went viral. Thanks to the exposure, the bear now has his own swimming pool.
Bruiser the Bear is a resident at the Single Vision wildlife sanctuary in Florida. He loves to swim, like most grizzly bears. The owner, Carl Bovard raised funds on IndieGoGo to give Bruiser a special gift.
To date, 814 backers have donated more than $58,000, and Bovard was able to sign a contract with Poolside Designs for Bruiser's dream splash pool.
In an update posted on the campaign page, Bovard described it as the "ultimate Tiger & Bear & Human pool" for the team to play in. Read more on our Twitter account, @amomama_usa.
Bruiser, his mate Honey Bear and tigers Indah and Enyo all get to the enjoy the facilities and spend hours a day playing in the cool waters.
In the video, Bruiser can be seen belly flopping into the pool, only to emerge with a big grin on his face! Bovard explains that Bruiser, a Syrian Brown Bear, is the very last of his kind.
Due to habitat destruction and hunting, Syrian Brown bears have been "virtually eliminated in the wild," and Boward vowed to give Bruiser a forever home; and a pool!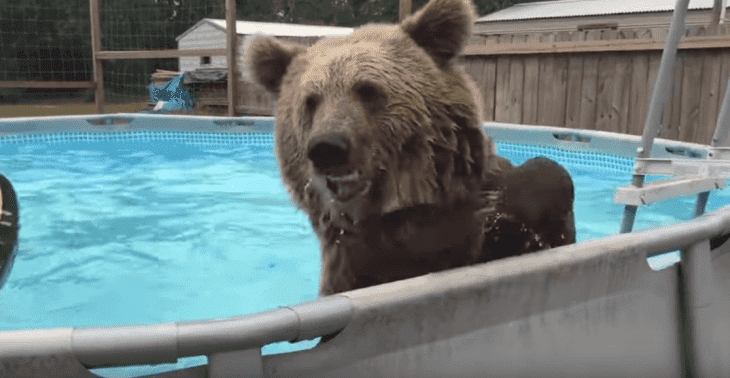 Source: YouTube/Single Vision
The construction of the pool saved money in the long run because unlike the popular adage, Bruiser was a 'bear in a china shop' and would destroy one inflatable pool after the other.
When Bovard temporarily lost his sight as a teenager, he knew the one thing he would miss seeing would be animals. His sight eventually returned, and he had only one goal in mind.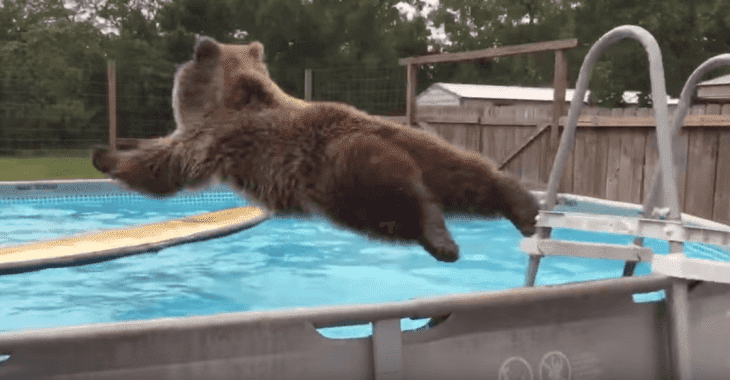 Source: YouTube/Single Vision
He describes the epiphany as his 'single vision,' and the mission was to "get moving and do what I can to save the animals I loved so much." He also added:
What kind of world would this be without the Great Blue Whale, the Asian Tiger, or the lovable Manatee? Well, it's happening… they are disappearing from sight at alarming rates.
He set out to realize his dream and has cared for a plethora of animals since the non-profit's inception, including whales, manatees, dolphins, lions, tigers, wolves, orangutans and many more.
The exploits and adventures of the animals in his care be perused on Single Vision's website and Facebook page.
Please fill in your e-mail so we can share with you our top stories!