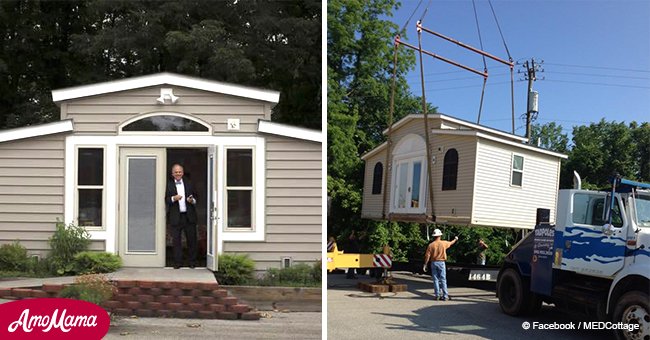 Doctor designs tiny house as replacement for nursing homes and it looks incredible

Dr. Kenneth Dupin made an incredible tiny house to serve as an alternative to nursing homes.
Dupin decided to design tiny houses to provide comfort and security for the elderly while also keeping them close to their loved ones.
He called these tiny homes "granny pods," but they are officially known as MEDCottages.
Follow us on our Twitter account @amomama_usa to learn more.
It all started when Dupin heard the story of a woman named Katie.
Katie lived in a house she loved filled with memorabilia from her life, but she was forced to leave everything behind when she had to enter a nursing home.
"I went over to her, and she pulled me down to where I could hear her, and she said [through tears], 'Please take me home,'" Dupin recounted.
That was the reason he thought of a way to provide the elderly somewhere else to go besides a nursing home.
He came up with these mini-mobile homes, which are only 400-square-feet.
It can be parked in a backyard and hooked up to the main home's water and electricity.
The homes go for approximately $2,000 a month and are equipped with all of the latest technology, including webcams for safety reasons.
"This is something that we call 'Feet Sweep,'" Dupin explained.
He added that the camera can only see a person's feet, so family members will see and be able to call for help if that person fell.
Having an open-concept floor plan, these homes are perfect for one person to live in.
The windows can give the house lots of natural lights. It's also easy to check the elderly's temperature and heart rate because of the monitoring system.
Jane Baldwin, 67, a retiree who moved into a granny pod in California to be closer to her family, has no regrets about her decision.
"I am in love with it," she said. "I can foresee living here until I'm dead."
Dupin also sees himself living in one of these tiny homes in the future
He said: "I'll probably be in one of the backyards of one of my kids."
Please fill in your e-mail so we can share with you our top stories!