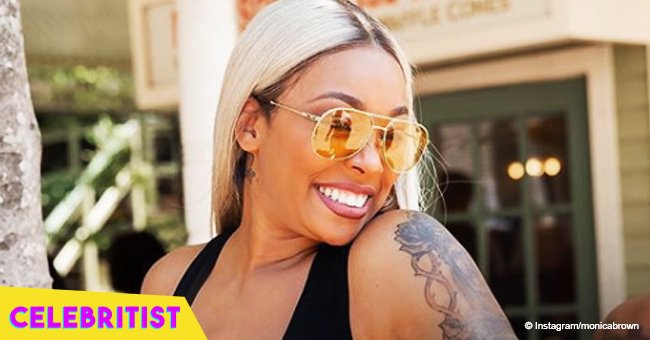 Monica Brown's grown son snatches hearts with his blonde hair & green tracksuit in pic

Monica Brown is definitely doing a great job raising her 10-year-old son Romelo, who seems to have taken after his mom when it comes to his fashion style. Recently, he posted a photo of his recent OOTD on Instagram which proves he definitely has what it takes to be a fashion model in the future.
Dressed in adorable green tracksuit and sneakers, Romelo posed while sitting on one of the barricades in what seems to be an amusement park due to the admission band he is wearing on his wrist. He had his hand covering his mouth, letting his eyes speak instead. The little man also made sure to let his blonde and brown hair loose, showing off his naturally curly hair.
Earlier this year, his mom Monica threw him a themed birthday party filled with cake, gifts, and some of his closest friends. Their chosen theme for this year was Battleground, and so the party event was filled with combat tanks, crates, alligators and everything camouflage.
Another interesting part of the party decorations was a none-functioning jeep that fit perfectly as a photo backdrop for the event. Of course, the birthday celebrant had to be one of the first to sit on top of the vehicle for the photo op.
On Instagram, the proud mom made sure to greet the love of her life a happy happy birthday. In the open note, Monica expressed her love for him, saying she loves him with her entire being.
"I appreciate your desire for knowledge and understanding when it comes to life!! I adore your belief in yourself and the fact that you will remind me to believe in me. Some told me having children could mean a loss of support in my career! Yet one look in your eyes was the inspiration that lit the fire for me to break more records and reach higher!"
Please fill in your e-mail so we can share with you our top stories!