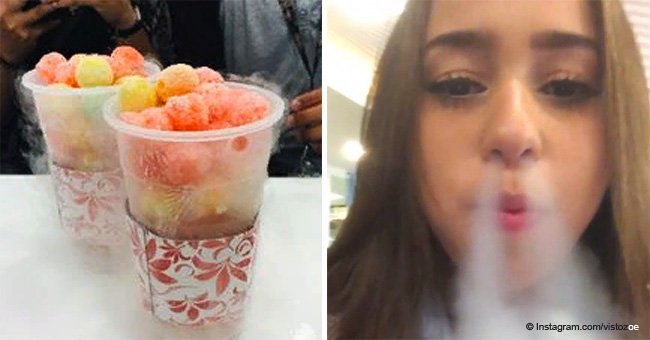 Police warns of potentially dangerous new dessert trend
New York's local government has warned the residents against consuming a potentially dangerous dessert item called 'Dragon's Breath.'
According to a report from Daily Mail, a warning has been issued by the Livingston County Department of Health stating that the dessert can cause frostbite and even tissue damage after the consumption.
Dragon's Breath is a unique style of food item that is prepared by freezing cereal puffs in liquid nitrogen, as per a report from WHEC 10.
People have grown fond of putting the cereal puffs in their mouth and exhaling, which makes it seem like they are breathing smoke.
However, such activities may lead to overexposure of liquid nitrogen in the body, which may lead to injury, the report further suggested.
Daily Mail reported about a story from last year, where a 14-year-old girl had to be rushed to a Florida hospital after she suffered burns to her hands due to Dragon's Breath exposure.
According to an interview on TODAY, the doctors then had to cut the burns open to cut away the dead skin and get the infection out.
"They [the doctors] said had we not come in and got her finger treated she could have possibly lost her thumb," Tina McArthur said during the interview.
Liquid nitrogen is being increasingly used in our kitchens to add extra attraction to the dishes and cocktails. However, incorrect consumption of this item may lead to dangerous results, as per medical professionals.
Dr. Reed Caldwell, assistant professor at Ronald O. Perelman Department of Emergency Medicine at NYU Langone Health, also told TODAY, "First is rapid significant damage to the skin and body if swallowed."
He also informed that liquid nitrogen is the same component that the dermatologists use to burn things off skin, which is strong enough proof that it can be destructive to skin tissue. So the doctor has requested everyone to be cautious while using liquid nitrogen, especially in case of children.
Please fill in your e-mail so we can share with you our top stories!