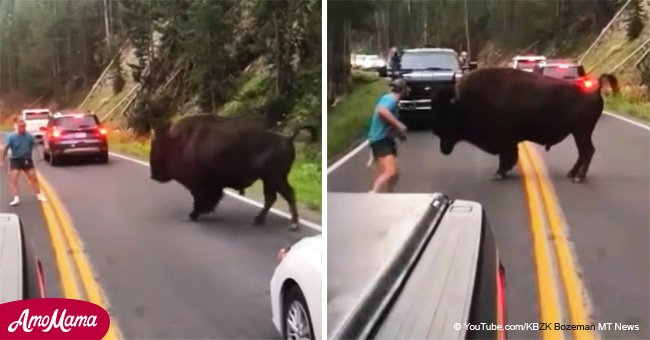 Close call for tourist who taunted an already aggravated bison (video)
A man was caught by the camera mocking and provoking a bison in Yellowstone National Park.
Lindsey Jones was driving on the Hayden Valley Road in Wyoming with her family when the cars began to slow down and stop on the road as a bison passed by.
However, a man decided to show his stupid manhood by approaching the animal, which can weigh up to 2,000 pounds and got out of his car to mock the bison in the middle of the two-way road.
According to a News report, Jones saw everything very closely, she took out her cell phone and started filming while the man walked slowly down the road to approach the beast and show off by beating his chest.
The bison sees him and immediately turns around and prepares to attack. But the man does not retreat, instead of doing so he begins to growl and to provoke the bison one more time. Read more on our Twitter account @amomama_usa
The huge animal begins to charge the man for the second time when Jones exclaims: "My God, I can't watch anymore!" from behind the camera. 'Get out of there!' someone else shouts from his car.
Fortunately for him, the animal seems to have more common sense than the human and simply makes a move to hit him with his powerful forehead, but then turns around and leaves.
Jones posted the video on Facebook, where it has been seen more than 5 million times since then. It is unclear if the man was cited by the Yellowstone Park staff.
Yellowstone requires visitors to stay at a minimum distance of 25 yards from bison and elk, and 100 yards from bears and wolves.
These distances protect visitors and the remarkable experience of sharing a landscape with thousands of animals in freedom. People who ignore these rules are risking their lives and threatening the park experience for everyone else.
"The animals in Yellowstone are wild and unpredictable, no matter how quiet they seem," the park guidelines state.
Please fill in your e-mail so we can share with you our top stories!