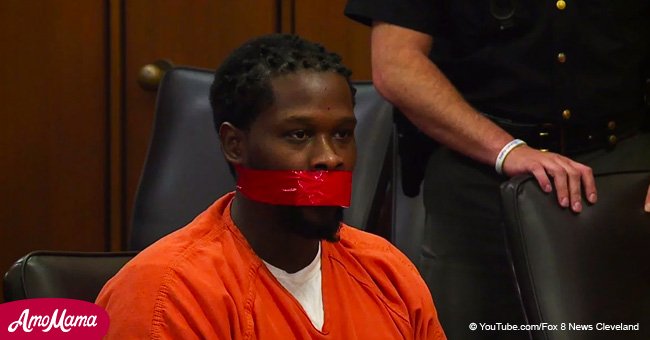 Man's mouth taped shut in courtroom during sentencing
The accused 32-year-old's mouth was taped after he refused to stop talking at the hearing despite several warnings.
In an unusual court hearing, 32-year-old Franklyn Williams, who was on trial for three instances of armed robbery in Euclid and Richmond Heights, was barred from speaking.
As reported by Fox8, soon after the hearing began, Williams began speaking out of turn and continued to ramble through the session. He had reportedly been warned more than a dozen times and was commanded not to interrupt the hearing.
Williams had even crossed the line by interrupting his lawyers when they were defending him.
When Williams refused to heed the warnings of the court, the judge overseeing the case did not hesitate from taking stern action.
Read more about similar stories on our Twitter account @amomama_usa.
Judge John Russo, who had tolerated the defendant's constant verbal interference for over 30 minutes, ordered the deputies present in the court to tape William's mouth shut.
One deputy placed a strip of red tape on William's mouth, while six other deputies stood around to control him. However, Williams did not relent and continued trying to talk.
The deputies then applied another layer of tape on his mouth. It was only after this additional restraint that the hearing could resume.
Williams had been found guilty of kidnapping, aggravated robbery, misuse of credit cards, theft and possessing weapons under the pretext of disability.
After being convicted last December, he broke the law again by cutting his ankle bracelet open and escaped to Nebraska.
Williams story had been that he had sustained a head injury which caused him to lose his memory. This claim was exposed as a lie after a couple of phone calls between Williams and his family members were played in court.
The convict had also reportedly searched the internet for ways to surpass criminal charges.
Despite Williams repeated efforts to defy the law and legal proceedings, he was sentenced to 24 years imprisonment.
Please fill in your e-mail so we can share with you our top stories!