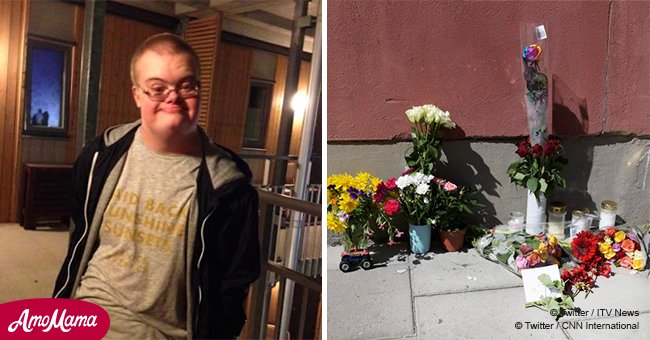 Police shoot dead 20-year-old with Down's syndrome
A disabled resident from Stockholm with autism spectrum disorder was shot and killed by Police after he ran away from home. They claimed that he was a threat.
Expressen reported that the 20-year-old Eric Torell was only carrying a plastic toy gun when three officers opened fire. Read more on our Twitter account, @amomama_usa.
They apprehended him at 4 am, and an eyewitness told reporters that the gunshots out in the streets woke him up. Someone was yelling for Torell to lay his weapon down.
They were responding to reports of an armed man in the Vasastan district and believed that Torell was dangerous and posed a threat.
His mother, Katarina Soderberg said Torell was a kind person who wouldn't hurt a living being. He couldn't speak apart from the word "mum."
She added:
"We are furious because of their lying and making up things. You can see a mile away that he's got Down syndrome. It can't be missed. 'A threatening man'? He's like a three-year-old."
He was shot multiple times and passed away from the wounds almost two hours later. Torell's father, Richard, realized that he went missing during the night.
He saw the officers outside and asked if they had seen Torell. The officers said they had not, and they didn't have the resources to search for him.
Richard returned to his apartment and reported Torell as missing. When he approached the officers again, they confirmed that Torell had been shot and killed. He said:
"I do not know if he was still alive when I was there for the first time."
The story is still developing, and the possibility of police misconduct will be investigated. The Chief of Police Ulf Johansson said it was a terrible event and refused to speculate on the circumstances.
Earlier this year, a black man was shot dead when officers mistook him for another suspect and claimed that the was holding a gun. Read more about it here.
Please fill in your e-mail so we can share with you our top stories!