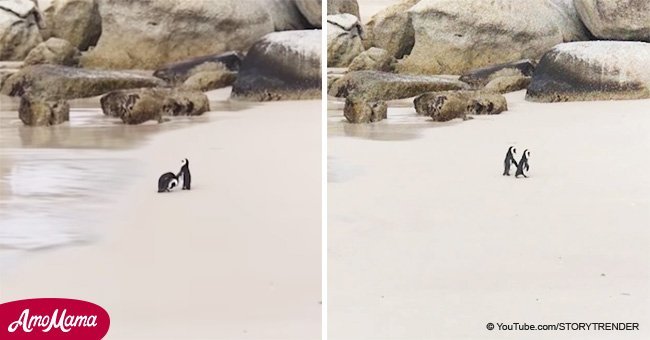 Tiny penguins show real love by holding 'hands'
A viral video showed two penguins seemingly holding "hands" on a beach in South Africa.
Norma Landeros-Ramirez and her husband visited the popular Boulders Penguin Colony in Cape Town, South Africa, where they saw the two Magellanic penguins looking as if they were holding hands.
The two penguins emerged from the water and walked towards the sand, joining flippers and waddled on the beach. Landeros-Ramirez explained:
"Since my husband and I are newlyweds, I wanted to see the penguins because I have heard that they keep one partner for life, so it seemed fitting."
For more stories like this, follow us on our Twitter account @amomama_usa.
"They held hands for at least 30 seconds. Both had emerged from the water and then began waddling on the beach together. They then rested on the beach where other penguins were nesting or mating," added Landeros-Ramirez.
She captured the special moment and posted it online. Soon enough, the clip gained attention and became viral.
As explained on Inverse, penguins are known to have strong pairing bonds. Male and female penguins supposedly work together to protect their young.
The couple works together to take care of the chick until it hatches. During the process, which lasts for four months, the males suffer more since they lose up to 50 percent of their fat supply.
They have to fight off the intense cold temperatures in search of food for the family.
Some couples pair up again for the next annual mating season, but Emperor and King penguins were discovered to do the opposite.
In 2012, one Magellanic penguin couple spent a total of 16 years together, which was almost the span of their entire breeding life, according to Pablo Garcia Borboroglu – a tale researcher.
He described the instance as "incredible."
Penguins holding flippers is not an uncommon sight. Throughout the years, penguins were seen to have human-like traits and behaviors.
Please fill in your e-mail so we can share with you our top stories!