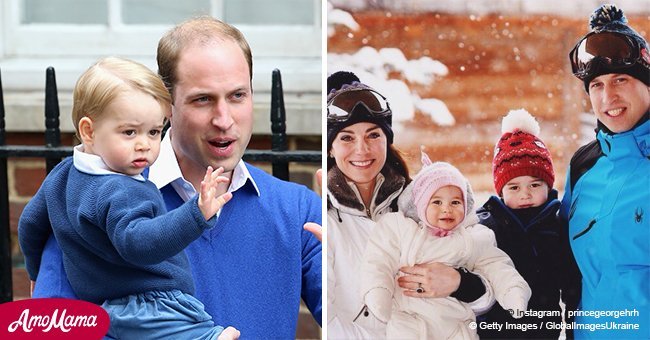 Prince George asked Santa for just one gift in a letter, and his wish came true for Christmas
Prince William seized the opportunity on a trip to Finland to personally deliver a letter to Santa Claus. In this letter, his son George asked for a very special Christmas gift.
The Duke of Cambridge was visiting the Christmas markets in a park in Helsinki, Finland, when he decided to take advantage of the moment and deliver a letter his son wrote to Santa Claus. As you've probably heard before, Prince William has three children from his marriage to Catherine Middleton: Prince Louis, Princess Charlotte, and Prince George.
Prince William claims that his son, George, didn't ask for much in his letter, so it wasn't hard for Santa Claus to fulfill his request. It seems like all he wanted was a toy police car! Of course, the cute letter was signed by George himself. In addition, the Duke and the Duchess assured Santa that their son had been very good during that year, so he fully deserved the police car he wanted.
The official Instagram account of the Kensington Palace shared an image of William meeting one of the most relevant Christmas characters out there for the first time. Without a doubt, it looks like they're having a great time. The photograph was also shared and shared by various other media. The photo was also shared by the Kensington Palace on Twitter, stating that "the Duke delivered a letter from Prince George to Santa Claus" in the tweet.
Although it seems like being royalty has a lot of benefits, their children sometimes go through a rough time when it comes to certain things. The Dukes of Cambridge are very careful about the way they educate their children, which is why they receive a different treatment than most kids their age. One thing that is remarkable about royal children is that their parents usually donate most of their gifts to charity in order to avoid them getting spoiled. Because of this, little Charlotte and George will not receive all the gifts that children their age usually get. This also means that they tend to enjoy the few gifts they receive.
Please fill in your e-mail so we can share with you our top stories!