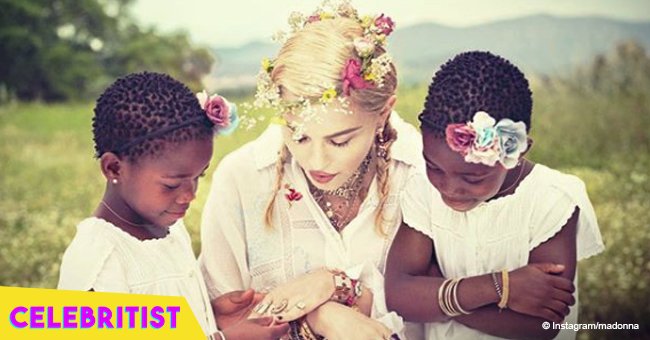 Madonna melts hearts in photos with her Malawi-born children in garden

Madonna shares an adorable photo of her and her Malawi-born children while outdoors. This comes after the superstar had packed her bags and moved to Portugal with her kids.
The "Material Girl" singer has had enough of America, as she has been embracing a simpler and more peaceful lifestyle in Portugal with her kids. She proved just how serene their life is in their new country, where she and her two Malawi-born daughters could be seen sporting matching white dresses and floral accessories. In the heartwarming photograph, her daughters could be seen checking out their mother's rings.
According to her recent interview with Vogue Italia, the songstress shares why she decided to relocate to Portugal.
"This is not America's finest hour. I felt like we needed a change, and I wanted to get out of America for a minute."
Another factor was her 12-year-old son David, who is hoping to pursue a career in football. With the expertise of coaches in Portugal, it seemed like a good idea as compared to the level of prioritization America puts in its football programs.
"I've been desperate to get him into the best academies with the best coaches, but the level of football in America is much lower than the rest of the world. I saw his frustration, and I also felt it was a good time."
Madonna often brings along her children when they go on vacation, but one place that she is particularly fond of is Africa. During her cover interview, she shares that her children amaze her when they are in Africa, as they all have such big hearts.
"I love when my kids are in Africa. Their selfless behavior, compared to the normal complaining in the privileged world we live in, is great to see."
She also shares that her kids are doing great in Portugal, and are starting to break into the spirit and culture of the place.
"What's amazing is how resilient they are and how they embraced all things, especially music, dance, soccer, and sports — things that connect them to other people makes adaptation easier. They learned to speak Portuguese through doing all those things with people, not by sitting in a classroom and learning in a didactic way, like writing on a chalkboard. Instead, it's fun, it's interactive."
Madonna is the proud mother of six children, Lourdes Leon, Rocco Ritchie, David Banda Mwale Ciccone Ritchie, Mercy James, Estere Ciccone, and Stelle Ciccone.
Please fill in your e-mail so we can share with you our top stories!