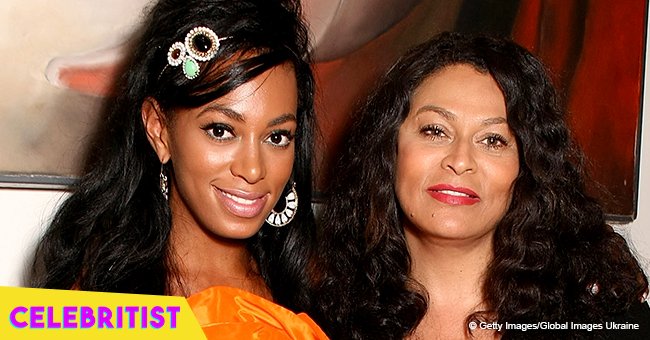 Tina Knowles shares picture with her 'beautiful baby girl' Solange
A recent photo of Tina Knowles and her younger daughter Solange Knowles reveals their closeness as they spend an afternoon together. The proud mom who confessed to sending her daughters to therapy at a young age gushed about Solange while taking an interest in her neckpiece during their outing.
Tina Knowles recently spent time with her younger daughter Solange Knowles and a photo she posted from their afternoon date captured the genuine love they share.
Mother and daughter sat close to each other as Tina's arms circled her daughter's shoulders. Both exuding innate beauty, they smiled for the camera Solange held on to with her free hand. They appeared to be hanging out on a bench along a sidewalk and were evidently enjoying their time together. Tina said as much in her caption.
"I am so happy to spend the afternoon with my beautiful baby girl."
Dressed in a black V-neck blouse, Tina complemented her daughter who stunned in a white tube top. Both also seemed to share an interest in neckwear as they fashioned chokers along with their contrasting ensembles. The 64-year-old also revealed her particular liking for Solange's necklace when she wrote,
"gonna steal that necklace! That is definitely a Tina Necklace."
Solange is the younger sister of Beyonce Knowles and while the two have shared the stage in the past as singers of 'Destiny's Child', Tina said she took measures when they were young to make sure the siblings didn't grow up with a rivalry.
During her Facebook live discussion with Maria Shriver in May, the House of Deréon designer admitted to sending her kids to therapy so Solange wouldn't grow up living in the shadows of her more famous sister.
According to Tina, Beyonce was already performing as young as eight years old. She feared Solange, who was five years younger would feel less growing up because of her sister's success. Tina grew up with a brother who was favored by her mother more and she didn't want that for her daughters. Thus, she brought Beyonce and Solange to a professional therapist to prevent them from developing any resentment towards each other and ultimately forge a healthy relationship between them.
Tina's family thought it inappropriate for her children to be seeing a therapist at such a young age but she stood her ground.
"My family was like, 'you're going to make them crazy because they're too young for you to take them', but I wanted Beyoncé to be sensitive to the fact that Solange had to deal with being a little bit in her shadow."
"It made her way more sensitive and protected, and they're still fiercely protective of each other."
In the end, Tina's efforts paid off. Her daughters now have an unbreakable bond. Despite the wide gap between Beyonce's popularity and Solange's, they support each other completely, both professionally and personally.
Please fill in your e-mail so we can share with you our top stories!