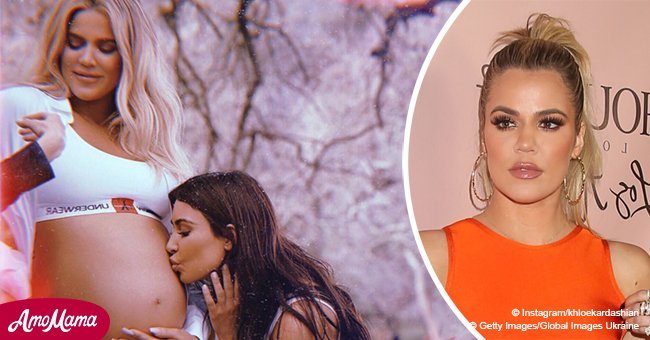 Khloé Kardashian shares new close-up photo of baby True's face
The 34-year-old businesswoman and television personality, Khloé Kardashian, shared an adorable photo of 3-month-old baby True on social media.
The photo was shared with Kardashian's 77 million followers, and accumulated nearly 4 million likes and 40,000 comments in the few hours it's been online.
In the caption, she wrote: "Kyankus [Armenian flag emoji] My life." True can be on the couch, staring straight at the camera.
"Kyankus" is the Armenian word for "life." Scroll down to see that cute photo and stay up to date by following our Twitter account, @amomama_usa
True wore a white dress and some Instagram followers said it made her look like an angel, while Alvi Christy said: "She is the prettiest thing I've seen in my life."
Ida Jonette said True has her parents wrapped "tightly around her adorable little chubby fingers already," and Brenda Waites Bolling added that she has "beguiling eyes."
The 15th season of "Keeping Up With The Kardashians" returned to the small screen, and Khloe hinted in her Instagram stories that fans might be treated to sibling rivalry.
However, she also shared a childhood photo with the hashtag "National sisters day" and invited fans to watch the season premiere.
Khloe is on a mission to get into shape after her pregnancy and will be focusing on her fitness routine and diet. She regularly shares fitness inspiration on Instagram.
In a recent series of Stories, Khloe promoted her activewear brand and launched a new label called Performance. The line consists of more than 41 tops, pants, shoes and other workout gear.
The line received glowing reviews from fitness enthusiasts, with Lisa Desantis explaining: "I felt great doing all the moves, from burpees to leg lifts, and I was impressed that the fabric didn't feel like it was riding up."
Performance is available from selected outlets and can be purchased directly from the Good American online store.
Please fill in your e-mail so we can share with you our top stories!