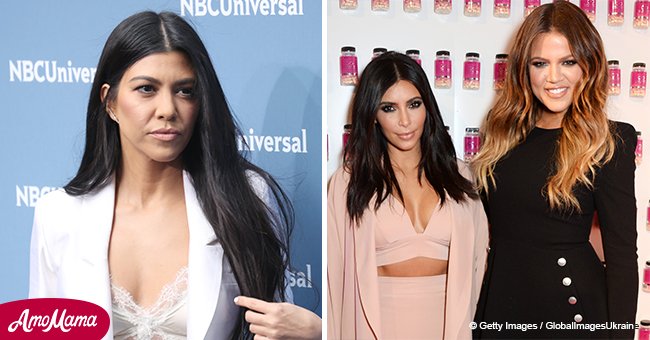 Kourtney Kardashian slams her 'disgusting' family and says she's 'ashamed'
On Sunday, Keeping Up with Kardashians premiered with a heated episode. The episode saw sisters Kourtney, Kim and Khloé Kardashian lash out at each other.
The fight between Kourtney and Kim even spilt over onto Twitter. Some very nasty things were uttered during the pair's argument.
At one point during the episode, Kourtney Kardashian, 39, confessed that she and Khloé Kardashian had not been close over the last 6 months. She shared that she felt constantly criticized and picked on.
Kourtney stated that in the past she would brush things off, but now she didn't want to tolerate it anymore. Khloé, who was pregnant at the time with daughter True Thompson, took issue with her sister's "attitude" problem.
For more on this story go to our Twitter account @amomama_usa. "It confuses me how Kourtney is confused that we're butting heads," she said.
"Trust me — if I wasn't pregnant, I probably would have drowned you in the [expletive] pool," the 33-year-old announced. However, the argument between Kourtney and Kim, 37, started when latter suggested they plan a family photo shoot.
Kim gave herself the responsibility to coordinate everyone's schedules for the shoot. However, Kourtney refused to budge to accommodate others.
Kanye West's wife retaliated by telling her that no one wanted her in the shoot. She even added that her older sister was" the least exciting to look at."
Kourtney left but the argument continued over the phone. Over the phone, she cried while saying she wasn't there to be mistreated by her family and also berated Kim for calling her the least interesting one to look at.
She shared that her sister's had different values compared to her as she would rather be a mother. Kim wasn't having it as she told her sister that since Kourtney had less work then them; it would've made sense if she was more willing to accommodate them.
"Honestly, it's like, we have a disgusting family. I'm ashamed to be a part of [it]. It's just gross," Kourtney stated about her family.
The argument between the two continued with Kim admitting later that she was rude. However, that didn't mean she was apologetic as she stated that Kourtney was ruder than she was.
Eventually, Kim rearranged her meetings to accommodate Kourtney's schedule. The photo shoot happened but the tension between the sisters was clearly lingering.
As the episode played out, Kourtney took to Twitter to share that being a mother was her biggest priority. Kim picked up on the tweet and responded with an attack asking her older sister if her priority wasn't being a mother too.
Ultimately, Kourtney stood her ground and declared that she felt the arguments they had weren't normal anymore. She revealed that her personal growth couldn't allow her to be the person she was in the past.
The reality star also vowed to fans that they would see her showing more of her feelings during this season.
Please fill in your e-mail so we can share with you our top stories!