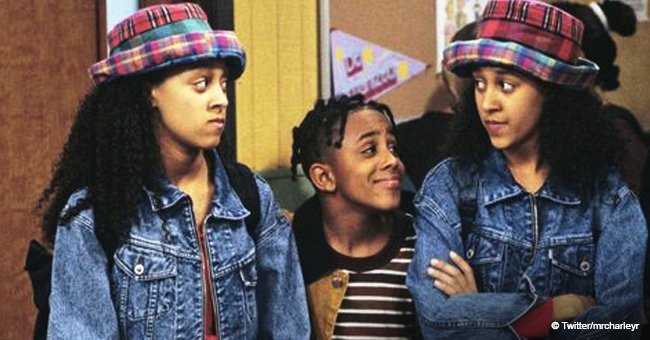 Remember Roger Evans from 'Sister, Sister'? He's 37 now & looks good with his 'lil homie' in pic
It's been 19 years since 'Sister, Sister' went off the air and while Tamera and Tia Mowry are still very visible today, it's interesting to know whatever happened to their next-door neighbor in the show, Roger Evans, aka Marques Houston. Here's what we've learned about the guy whose recent photo we unearthed along with what he's been up to since the show ended.
If you're familiar with the 90's series 'Sister, Sister,' then you probably remember the character, Robert Evans. And if so, you may be wondering whatever happened to the actor who played him, Marques Houston.
Almost two decades since the show went off the air, we've discovered that Marques forged a career in music and is also now a CEO of a film company. A recent photo of the actor/ musician also reveals how handsome he is now as he posed in a selfie alongside his younger brother he refers to as his 'lilhomie.'
Marques was only thirteen when he snagged his breakthrough role in the film 'Sister, Sister' playing the next-door neighbor of twins Tamera and Tia Mowry (Tamera Campbell and Tia Landry on the show). But when the series ended in 1999 after five years, Marques decided to focus on his music career which was already in its early stages after he founded the R&B group Immature in 1992.
In 1999, the singing group which comprised of four members changed its name to IMx and released three albums under the new name. After their third album, 'Greatest Hits' released in 2001, the band members decided to go their separate ways. Marques went solo and released his first album, 'MH' in 2003. He released a total of six albums throughout his solo music career.
Apart from his music, Marques also appeared in TV shows including 'One on One' and 'Cuts.' He also had roles in the films 'You Got Served,' 'Fat Albert' and 'Somebody Help Me.'Today, Marques is the CEO and a producer of Footage Films working alongside its founder Chris Stokes. Together, they produced the films 'Will To Love' and 'A Weekend With The Family.'
As for how Marques looks today, he is surprisingly looking great at the age of 37 as the photo below reveals. He's joined in the snap by his younger brother he fondly calls 'lilhomie.'
There are rumors that a 'Sister, Sister' reboot is in the works with the Mowry twins already on board along with Jackee Harry who played Lisa Landry. However, it isn't certain whether Marques will be part of the show again as details are still pretty much under wraps.
In the meantime, here's more of Marques' recent snaps.
Please fill in your e-mail so we can share with you our top stories!