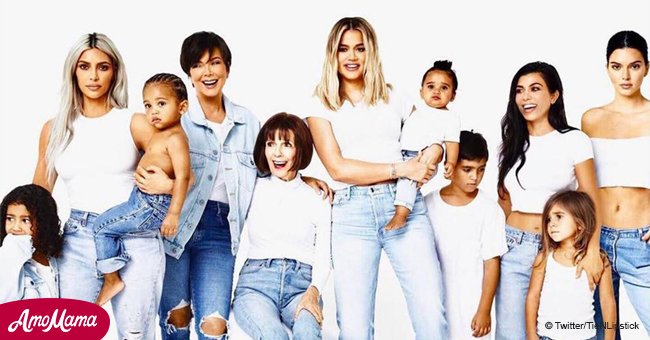 Here's the photo that sparked an epic family feud between Kim Kardashian and sister Kourtney
The "Keeping Up With The Kardashians" clan is back with a bang! Season 15 aired over the weekend, and sibling rivalry is already at the top of the agenda.
It all began back in December when Kim wanted to arrange a photo shoot for the entire Kardashian and Jenner family. However, some scheduling disputes got in the way.
Eldest sister Kourtney said she had to leave by 4 pm and she didn't "care what anyone says." Read more about the Kardashian family on our Twitter account, @amomama_usa.
Kim wasn't happy with her attitude and said it would be best if she wasn't part of the shoot at all. Their mother, Kris Jenner, told Kourtney to "be nice."
She also concurred with Kim that Kourtney was "being annoying." The situation only escalated when Kourtney insinuated that everything always has to revolve around Kim's schedule.
Not one to stand back and take a punch, Kim spat back:
"Maybe if you had a [expletive] business that you were passionate about then you would know what it takes to run a [expletive] business, but you don't."
At this point, Kourtney clearly had enough of the verbal abuse and left the room, to which Kim snidely added, "she's the least exciting to look at."
Khloe also showed face, but unlike her mother, she didn't take a side in the argument. As reported by E News Online, Kourtney left in tears.
Kourtney later said that she chooses to be a mother who spends time with children and added, "You guys just have really different values than me."
Kim apologized to Kourntney for losing her temper but it seems the damage was already done, and Kourtney was a no-show at Kim's baby shower earlier this year.
Kourtney has since taken to Twitter to defend herself, saying yesterday that everybody has their own set of priorities and her priority is being a mother.
She was also "a little disappointed: by her mother's reaction. However, blood is thicker than water and Kourtney said she still has "unconditional love" for Kim and her other siblings.
Watch the new season of "Keeping Up With The Kardashians" every Sunday on E! at 9 pm. The next episode is titled "Drop Dead Gorgeous."
Please fill in your e-mail so we can share with you our top stories!