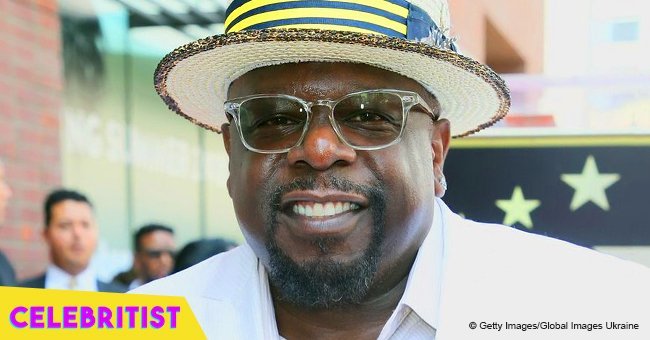 Cedric The Entertainer shares rare photo with little granddaughter who's pouting in grandpa's arms
He is famously known as the goofy man with the gift of making people laugh, but Cedric Antonio Kyles, popularly known as Cedric The Entertainer, is also a doting grandfather to Kylo. In a recent Instagram picture, Cedric poses a question concerning his granddaughter to fans and followers.
The award-winning actor, comedian, and TV host can be seen in the picture wearing a grey suit and a stylish boater hat. He is carrying his granddaughter who wears a slight frown and a pout. Cedric explains why:
"My #Grandcookie says 'Popci I wanna go with you...' but I had another meeting and she gave me that face... What I say??? [sic]"
Comments trailing the post showed that Kylo, whose mother Tiara is Cedric's daughter from a previous relationship, probably has more fans than her celebrity granddaddy. One user @zahirakv was taken by the little girl as she gushed: "Awwww sweet thing!!! That little pout!! So cute!!"
This comment left by @vcast81 is explicit: "Take e grandcookie with ya. Everyone loves a baby in the room [sic]"
Another user, @tolbert7074 provided Cedric with the exact words to speak: " 'Yeah, this Ced! Cancel that 2 o'clock something came up! I'll holla!!' Come on Grandcookie this your time, what we gone do today!"
Instagram user @28richkid also commented: "Alrighty then go get your stuff… From ( Jonson Family Vacation)", referencing one of the actor's popular movies.
Some of the reactions generated by the post might also leave you thinking Cedric's fans are just as hilarious as himself, like this one by user @dlodownload :
"You could have said yes. Or the meeting can wait. Or let me see if your mama or daddy wants to come too and I will make it as quick as possible... beautiful children and family are way more important then meetings IMO. Unless you is meeting with your lawyer to avoid going to court."
We're not sure what Cedric eventually did but he appears to be a devoted family man. The Missouri born comedian has been married to his wife, Lorna Wells, since 1999. He shares two children- Croix and Lucky Rose- with her.
When his older daughter, Tiara, put to be in 2016, the proud grandfather quickly took to Instagram to announce the arrival of his first grandchild.
He said: "Hey world I'm the GrandCeddy now. Meet #KyloFaithKyles my 1st grandchild ain't she a doll. Tiara is a momma now, and we are accepting all blessings, prayer, and Love. A life begins anew…"
Please fill in your e-mail so we can share with you our top stories!