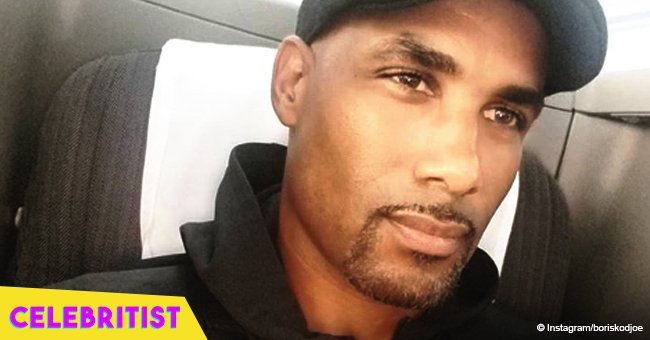 Boris Kodjoe and his brother Patrick look like twins as they go shirtless in new photo

Actor, Boris Kodjoe, who is popular among the ladies for his good looks, recently shared a picture of he and his lookalike brother, Patrick Kodjoe, shirtless on the beach. As expected, his female fans went wild in the comment section, with many of them asking for his brother's contact.
In the photo, Boris and his brother, Patrick can be seen displaying their bare chests on a beach. Patricks's side view is visible and it bears a striking resemblance to his celebrity brother, causing many to mistake him for Boris's mirror reflection. Both men are sporting huge grins in the picture.
The Real Husbands of Hollywood star shared the post with a caption that pays homage to their Ghanaian and German heritage, as well as the importance of family:
The Real Bros Of Manhattan Beach. Spent some QT with my brother and his tribe on the beach. Always great to be with kin, especially when you don't get to see each other nearly enough. We have to make more time for those we care about the most. Family.

#PatrickKodjoe #KodjoeBros #BaldBoys #BlackGermans #NoMirror #NoTwins #Blermans #BothMarriedNicoles #KeepItSimple #GhanaGuys #Gernaians
One stunned user remarked: "My goodness... is all I can say"
Another person who could not believe their eyes had to ask: "That a mirror reflection or a twinnie? @boriskodjoe"
Instagram user @motheroftwo511 who was clearly smitten, commented: "Dang another one. is there a third that isn't married? If not can I clone you #hotstuff #yumm"
This fan @tinabells_look_on_life was not shy in declaring her interest with this hilarious comment:
"First of all @boriskodjoe, Patrick needs to stop all this hide n seek stuff. SHOW YOURSELF PAT! What's your IG handle?"
Even though Boris is the popular one, both brothers are said to be very close. Not only are they siblings, they are also friends, ex-sportsmen, and business partners who jointly run a fashion business. Patrick is also said to have been a major source of stability for Boris when the actor first moved to the United States.
Interesting fact: Both brothers are married to women named Nicole.
Please fill in your e-mail so we can share with you our top stories!