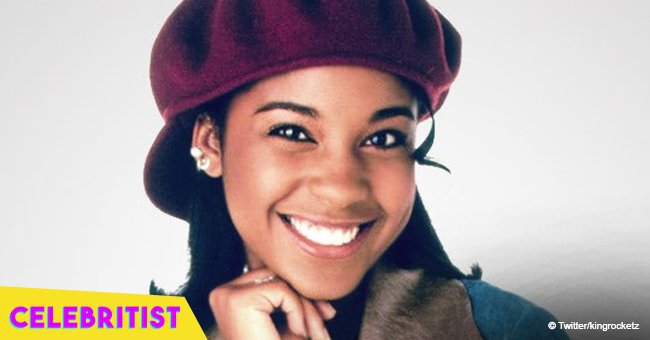 Remember Zaria Peterson from 'The Parent 'Hood'? Her kids are all grown up and look just her
Reagan Gomez-Preston is an American actress, producer, businesswoman, devoted wife and mother of two. Her kids are all grown up and have a striking resemblance with her, as seen in her most recent Instagram post.
The 38-years-old star, known for her role as Zaria Peterson in the '90s sitcom "The Parent Hood," and as the voice of Roberta Tubbs on the animated comedy "The Cleveland Show," is now a hard-working, proud mom of two adorable kids.
She married to model DeWayne Turrentine in 1999, and shares daughter, Scarlett Annette Turrentine, 11 and a son Tyger Attila Turrentine, 7, with him. The kids just went back to school on Monday, and while is not her first time saying goodbye, Reagan got emotional as she shared a photo of the pair on Instagram.
The pic portrays Scarlett and Tyger standing in front of the hood of a car, with the girl rocking braids, gray top and shorts, a denim jacket and red sneakers, and the boy a plaid t-shirt, orange jeans and red, black and white sneakers. Both of them flashed bright smiles to the camera, showing how happy they are of going back to school.
Their mom, on the other hand, expressed sadness as she used crying emojis on her caption that says:
"Back to school! I officially have a 6th grader & 2nd grader. Where does the time go??? #BackToSchool #1stDayOfSchool"
Talking about her kids a few years ago in an interview with XO Necole, Gomez explained how hard it has been for her and her husband to teach their eldest daughter on the problematic surrounding African American people and the "Black Lives Matter" movement.
"There's a lot I try to keep from her until she gets older, I don't want to bombard her," she stated.
"Not only is she black, she's a black girl. You have issues you deal with as a black girl, that you brother may not have to deal with. It's hard."
Reagan believes that the internet makes a difference in the younger generation, as they are more aware of their surroundings and everything that happens in the country. The actress mentioned that keeping tabs on their kids' browsing story can be hard when they're in school.
She brought to the conversation the story of a mother who found out that her kids' book was altering history by mentioning "slaves" as "workers," and she added:
"These kids nowadays, they're exposed to so much. Both of my kids, they have iPads, they literally have the world at their fingertips. I heard about the textbook, and even that people are trying to remake history, not that we got a good education on slavery or Jim Crow. But at least they had slavery in the book. We can't let them sugarcoat history."
These days Reagan has her own production company and is working on the digital series "Surviving," where she's also the lead actress.
Please fill in your e-mail so we can share with you our top stories!