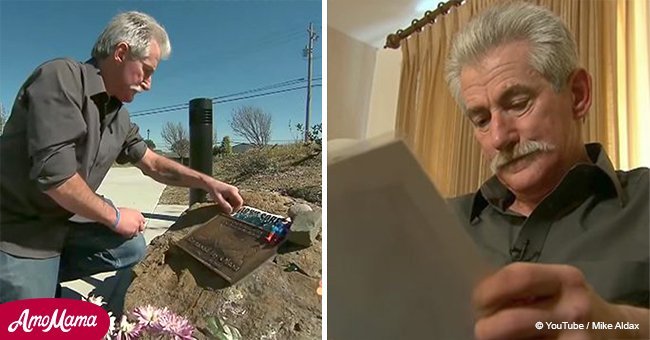 Grieving dad preserves son's memorial in secret until property owners decide to help him
A father, Raymond Olsen, would only visit and care for the elaborate roadside memorial at night, that way no one would see him. The property on which the small monument stood belonged to an oil company, who was content with letting it be until they finally left the father a note.
The memorial, sitting outside a Chevron property in Richmond, California, was built by Olsen in the year 2003 in the memory of his son, also named Raymond Olsen, reported NBC News.
For over a decade Raymond Olsen had been mourning the death of his son. He would discreetly visit his son's memorial at night, until when the property needed an upgrade and Olsen received a note from the owners.
The owners of the property were Chevron, and the company was happy to leave the memorial untouched up until it was time to upgrade their property.
That's when the company decided to reach out to the person responsible for meticulously looking after the memorial.
"We'd see that it was being maintained, but we'd never see who was maintaining it," Chevron executive Joe Lorenz said.
Chevron did not want to disregard the emotional significance of the memorial, and that's why it posted a note on it, asking the mysterious caretaker to come forward and contact the company.
When the grieving Olson, saw the note and decided to get in touch with Chevron, he was sure that the oil giant would remove the memorial. "I just knew they were going to take it down," Olsen told NBC News.
He had but the memorial in the memory of his son who was killed in a car crash involving a drunk driver when he just 22 years old.
The loyal and loving father had been preserving the memorial in the middle of the night as he did not want anyone to see him.
Olsen was always fearful because he thought that the testimonial would one day disappear and he felt that was going to happen when he read Chevron's note posted on it.
Chevron, on the other hand, had posted the note because they wanted to construct a permanent tribute for Olsen and to do so they collaborated with the president of the local council, Ceasar Zepeda.
Chevron, along with Zepeda, erected a memorial in a nearby park. The memorial included a bench and plaque with a photograph of Olsen's son.
"We said, 'This is your spot, Ray. You no longer have to come at night."
Olsen felt that he can, at last, accept his son's death with the new memorial. "It shows you people do still care. The world has hope," Olsen told *NBC News.
Please fill in your e-mail so we can share with you our top stories!