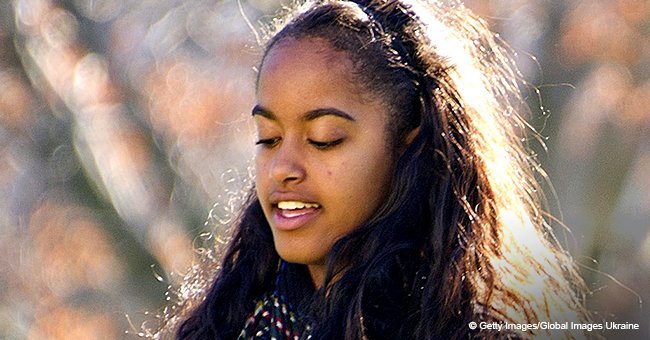 Malia Obama spotted snuggling up to British boyfriend in London subway before smoking cigarettes

Malia Obama sure took out time to enjoy herself during her trip to London last month. The 20-year old daughter of President Barack Obama was spotted smoking multiple times as she toured the city with her British boyfriend.
The young couple, who met at Harvard, were seen engaging in some PDA at a busy London subway. Malia was photographed with her arms around boyfriend, Rory Farquharson's neck. Farquharson, who was dressed casually in a light blue patterned shirt, navy blue roll-up pants, and trendy sneakers, also had his hands around Malia's waist. At one point, he reportedly planted a kiss on his partner's forehead. The two giggled and talked without so much as a glance at the bustle of activity going on around them.
The loved-up pair also went to see a production at The Bridge Theatre, after which they took a leisurely walk around town. Malia and her boyfriend were pictured smoking cigarettes on their way to the Theater, and by the time they were leaving the venue, the former first daughter was again seen puffing away on a vape.
Farquharson, whose father is the chief executive of a London investment fund management group, appeared to be the caring boyfriend as he kept an arm around Malia to shield her from the cold during their evening walk. Malia had on a grey crop top, brown wide-leg pants, chunky black boots, and an oversized denim jacket which she slung across an arm. She accessorized with a brown crossbody bag and a neckpiece. The pair looked happy and comfortable with each other.
Their relationship was first thrown into the spotlight last November when the two were caught kissing before a football game.
Meanwhile, Malia's smoking habit has become a topic of discussion online, with many linking it to her father, Barack Obama who is also known to smoke regularly. While in the White House, it was reported that he used a particular kind of gum to fight the urge.
Internet users have been divided in their opinions towards the news.
While some criticised the 20-year old's behavior, others have pointed out that she is an adult and should not be shamed for doing what any other adult would get away with just because her parents are famous.
Please fill in your e-mail so we can share with you our top stories!