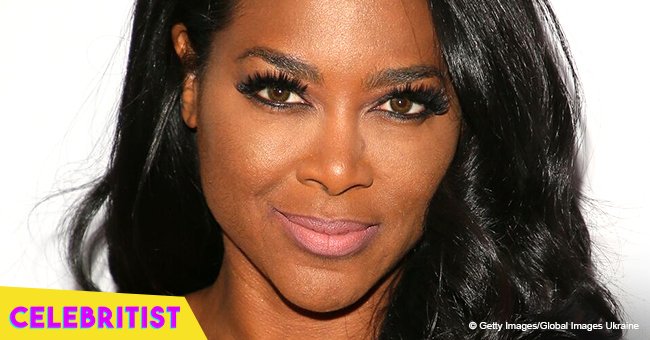 Kenya Moore flaunts baby bump in high school jersey & army-print trousers at Todd Tucker's b-day

Kenya Moore proudly showed off her makeshift costume for Todd Tucker's birthday in a photo she recently shared. However, the mom-to-be who recently shut down a restaurant for a date night was then criticized for disobeying the party's dress code.
She's carrying the child of her husband Marc Daly, but Kenya Moore amazingly fit into her high school jersey to attend Todd Tucker's birthday bash.
The pregnant star showed off her costume in a photo she shared from the "Jerseys and Jordans"-themed party thrown by Kandi Burruss for her husband who turned a year older in the weekend.
Guests of the lavish event were asked to come in jerseys and Nike shoes designed by Michael Jordan whose own basketball jersey with the number 45 coincides with Todd's new age. In response to the invitation, Kenya dug into her past and donned not a basketball jersey but a football jersey she wore in high school.
Kenya explained in her caption accompanying her photo that she "did her best" to pull off a look despite not being a jerseys-and-Jordans girl and came up with her high school jersey and an old pair of Jordans. She matched them with army print joggers and a black baseball cap. Kenya's growing baby bump was evidently showing as it threatened to reveal itself in her tight-fitting top. The result was a trendy pregnant mom who's totally game with a costume-themed party. Here's the look the former 'Real Housewives of Atlanta' star came up with.
As proud as Kenya was of her ensemble, fans had another thought. There were some who criticized her for not following the party's theme and insisted she should have just stayed home. One commenter wrote,
"Wow, she should have stayed home. I've never seen her looking a hot mess like this, Damn! That gear made her look cheap as hell. Come right or don't come at all. Girl, you know you could have gone out and bought or ordered something to wear for the party even if you never wear it again in your life bc this."
However, Kenya had other supporters who gave her a pass and supported her efforts to pull off a costume.
"Kenya You look excellent and Pregnant. Congratulations to you and your Husband! Love the shoes. Do they glow in the dark? I bet they will make a come back now! You did great; you are pregnant. You get a pass to wear, feel and look however you want. They were happy to have your love and support."
Kenya's latest outing comes in the heels of a date night she spent with her husband at Kandi Burruss' restaurant Old Lady Gang. The pair was joined by another couple as they posed for a photo from their dinner. Kenya was glowing in a tight-fitting canary yellow mini dress while her husband proudly held on to her protruding belly. The mom-to-be gushed over how amazing the night went in her caption and revealed they shut the restaurant down and ate "waaayyy toooo much."
Please fill in your e-mail so we can share with you our top stories!