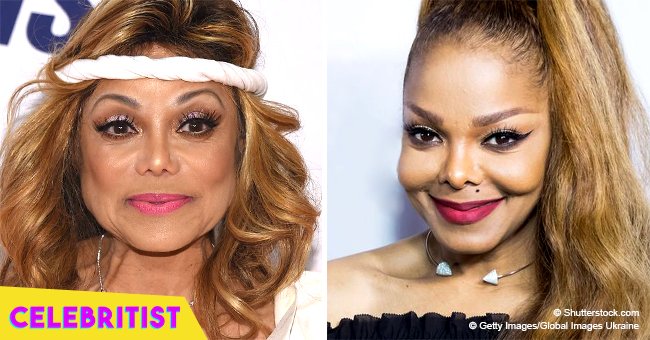 LaToya Jackson shares heartwarming throwback pictures of her sisters

Old photos of LaToya Jackson and her sisters Janet Jackson and Rebbie Jackson have surfaced on LaToya's Instagram as she commemorated National Sisters' Day. The 80's snaps gave a glimpse of the sisters' closeness which still resonates today.
Proud sister LaToya Jackson took a pause on National Sister's Day to pay tribute to her relationship with her siblings Janet and Rebbie Jackson. The proud sister shared a couple of throwback snaps with each of them revealing their strong connection.
LaToya, Janet, and Rebbie are the only three sisters in the Jackson family of ten which also includes their famous late brother Michael Jackson. Naturally, they forged a closeness growing up and it seems their bond is still strong to this day as recent events reveal.
LaToya has been very vocal about her younger sister Janet who became a first-time-mom in January. She took to Twitter and congratulated the singer when she gave birth to her son, Eissa and expressed her excitement over her sister's newfound joy.
"How exciting! @JanetJackson, Jan and Wissam just gave birth to a beautiful baby boy!!! Congratulations!!!"
La Toya also thought it was "adorable" witnessing the 'Rhythm Nation' singer as a mother when she sat down with E! News to promote her appearance on 'Hollywood Medium with Tyler Henry."
"It's so hard for me to picture Jan being a mother. It's difficult in the beginning, because when you're not a mother and she was just always busy doing other things, but it's cute. It's adorable. It's wonderful."
Details of LaToya's current relationship with her older sister Rebbie are scarce, mostly because the eldest Jackson heir has kept a very low profile through the years. But based on the throwback photo LaToya recently posted, it's not far-fetched the two still maintain an amicable relationship.
In the two photos LaToya shared on National Sisters' Day, she's photographed with each of her sisters. In the first photo, she poses with a much younger Janet who's sporting a baseball cap and a white T-shirt and jeans while LaToya had on a bandanna around her head and wore a red blouse with holes on her shoulders to match her white pants and stiletto boots. They sat on the edge of a fountain sitting in front of a huge house. In the second picture from a later time, LaToya hugged her older sister Rebbie as they appeared all smiles and exuded extreme closeness. Based on the two photos, LaToya and her two sisters appeared to have had a special connection as young adults.
In June, the Jackson family mourned the death of their father, Joe Jackson who lost his battle against cancer. Joe was the big man behind his musically-inclined family's career. He managed Rebbie, LaToya and Janet in the early 80's until they managed on their own.
Upon her father's death, LaToya tweeted,
"I will always love you! You gave us strength, you made us one of the most famous families in the world. I am extremely appreciative of that, I will never forget our moments together and how you told me how much you cared. #RIP Joe Jackson."
Please fill in your e-mail so we can share with you our top stories!