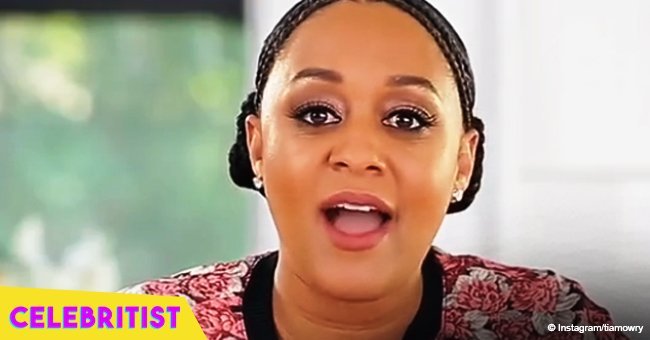 Tia Mowry gets candid about the reason she doesn't breastfeed in public

Famous "Sister Sister" actress, Tia Mowry is not holding anything back about her views on breastfeeding. The new mom to 3-month old Cairo recently revealed why she does not like to breastfeed her baby girl in public places, but she also had a word for moms who do.
Mowry, who had trouble breastfeeding her first son, 7-year old Cree, when he was a baby, expressed her joy at having it way easier this time around with Baby Cairo. It's no wonder then that she's elated with the recent development of public breastfeeding becoming legal in all 50 states of America.
The 40-year old mom-of-two says it's a good thing that women have the freedom to feed their babies whenever and wherever they want, but she's still not sold on the idea and would instead bottle-feed her little one in public. She explained:
"Can I give [an] analogy? When you go to a Korean spa…just stay with me for a minute, …you're fully nude, right? I remember I went to a spa and this woman walked up to me and she's like, 'Hey, aren't you the girl from Sister, Sister?' I'm like, 'Oh, my gosh!' I'm fully naked, and again I'm like, 'This is unbearable!' I don't know, people would see me just breastfeeding out in public and go, 'That's the girl from Sister, Sister, and guess what, I saw her boob!' You know?"
In a bid to reaffirm that she doesn't judge anyone, Mowry addresses other moms, saying:
"That's just for me, but I think it's awesome and amazing that women are able to do it. I think every woman is different [and] every woman has their own comfort level. I think the key is to not judge other moms, or for us to not feel insecure about what other moms are doing."
Despite her preferences, Mowry agrees that her baby's needs come first, adding:
"Of course, if she doesn't want the bottle and she wants to take the boob, there have been several times when I've covered myself up and I'll go ahead and breastfeed in public."
The "Tia Mowry's Quick Fix" star, who is married to fellow actor, Cory Hardrict, gave birth to the couple's second child on May 5 after a long battle with Endometriosis, a fertility condition in women. The one-half of celebrity twin sisters, Tia and Tamera, confessed that it'd been a challenge getting used to having two children but the key is not to get so far ahead of herself that she becomes overwhelmed.
August is the designated National Breastfeeding Month.
Please fill in your e-mail so we can share with you our top stories!