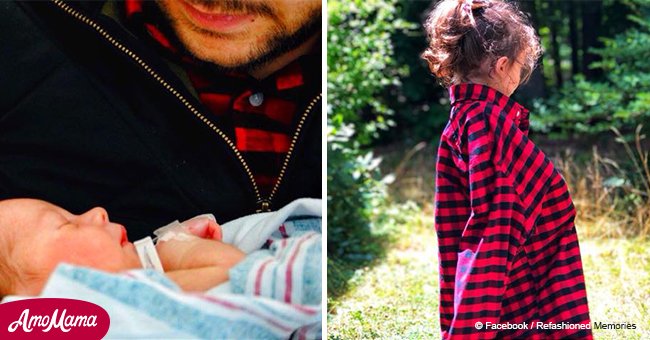 Mom turned her husband's shirt into the cutest dress for their little daughter.
Carli Grant has a unique talent – she can make clothes live forever, and the first piece of clothing she refashioned was her husband's old shirt.
The mother unloaded a post on Facebook describing her idea of refashioning worn clothes and creating beautiful memories on August 3, 2018.
Carli Grant, a passionate sewer, is inspired by almost everything especially the clothes of her husband, Josh.
After trying out various fabrics to make an outfit for her daughter Amelia, Carli decided to transform the red flannel worn by her husband when he carried Amelia for the first time.
Carli told Pop Sugar how she was trying various designs when she shortlisted one to try.
"I went upstairs to the closest to grab a shirt, and I picked a black and red oxford that Josh had on the day he first held Amelia. I went downstairs to start sewing it and found myself with tears in my eyes."
I thought other moms could benefit from the feeling that I had when I finished the dress and saw it on her."
She chose to use a black and oxford shirt worn by Josh because it was special for the family. She became emotional while she was making the dress for her daughter.
Carli knew she had only one chance to sew the dress properly especially since the shirt was significant for Josh.
Carli took the measurement and got to work. She was nervous and thought she might end up ruining Josh's most treasured shirt in the bargain.
She made proper cuts and finished the sewing process. She used the extra material to create a matching bow.
Luckily for Carli, the dress was perfect. Unaware of her plan, Josh returned home when Amelia gave him a hug in her new dress.
The father was completely blown away when he saw the dress.
It was at this point that Josh realized Amelia was wearing the shirt he had worn when he had carried her for the first time on the day she was born.
At that moment, the mother realized that many other mothers could benefit from the feeling she experienced when she completed her work.
Carli asked Josh if he remembered why the shirt was special. The proud husband had not forgotten the "beautiful memory" but found difficulty in expressing his emotions in words.
The couple then went back to check the old pictures. They put together a few pictures of Josh holding Amelia hours after she was born and of Amelia wearing the same dress.
Josh and Carli quickly set up the website to provide the same service to other families. She has displayed her creations on the website for everyone to see for themselves.
Please fill in your e-mail so we can share with you our top stories!