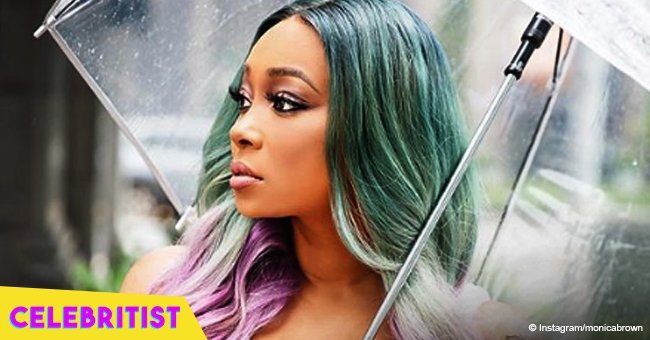 Monica Brown melts hearts in photo with dad who 'looks like Michael Jordan'

Monica Brown is the singer and TV personality but in this Instagram post she shared, it's her father, Billy Arnold, who has the spotlight. It's a good thing Brown doesn't mind as well because fans are saying her father looks like basketball legend, Michael Jordan.
Brown is leaning on her father's chest with a hand placed affectionately on his chest. Her father, in turn, has an arm around his daughter and rests his head on hers. Brown is wearing a black t-shirt and denim jacket while her father opts for a white tee and black jacket. Emblazoned on his coat is a logo pointing to his profession as a Christian minister.
Brown accompanies the post with endearing words about her Papa:
"Anyone call for a Pastor??!! How discreet is this jacket!! LOL That's what I love most about Papa... He's not ashamed of his love for Christ or His Family.... "Keep spreading the good word Pa" Your prayers have covered you children for decades #PreachersKidsGoneFeelMe #ThisJacket #HeLooovesTheLORD"
In no time, however, Brown's post had generated controversy in the comment section. Commenters began a religious back-and-forth that led to some calling out the singer and questioning her on her faith. Brown had to respond:
"We're all entitled to believe what we would like !! I'm standing on the word forever!!"
Brown, who has always been open about her battle with Endometriosis, is married to husband, Shannon Brown. Between them, they have four kids- Rodney and Romelo who Brown had in a previous relationship, Shannon's son from an earlier relationship, and Laiyah, Shannon and Monica's daughter born in 2013.
Speaking about her blended family earlier this year, Brown revealed:
"You have to think of the children first at all times, and the reality is, if it's not about them it's not up for discussion. We have to tuck our feeling in as a blended family and say 'okay what would be best' and what's the best way."
Please fill in your e-mail so we can share with you our top stories!