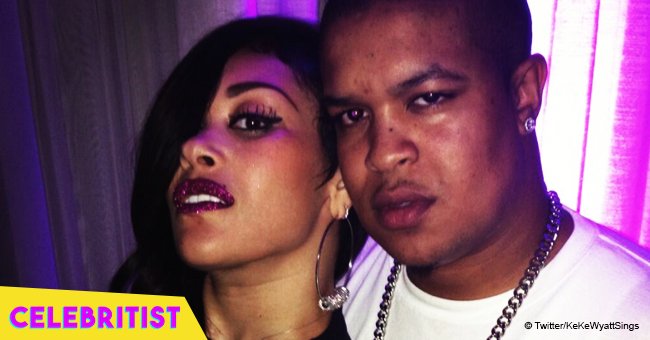 Keke Wyatt's ex-husband is allegedly dating 'American Idol' alum but gets slammed
Michael Jamar has moved on from Keke Wyatt and his new girlfriend has a post to prove it. The reality star who divorced Keke last year while she was pregnant with their eighth child is now someone else's "Everyday Crush"
Keke Wyatt's ex-husband Michael Jamar is now someone else's "Everday Crush" as he appears to have moved on to 'American Idol' contestant Paris Bennett.
A photo posted by Michael's alleged new girlfriend features the reality television husband along with some telling hashtags that speak of their blossoming romance.
Michael's relationship with Keke went sour last year when he asked her for a divorce while she was eight months pregnant with their fifth child. Keke was emotional when she took to Instgram to reveal the disappointing news and the timing of it all.
"When you eight months pregnant, you got a child sick —in and out of the hospital and your husband got the nerve to tell you that he wants a divorce, because he says that you're an emotional wreck."
In response to Keke's video, Wyatt issued his own statement explaining his decision to divorce his wife.
"For over seven years I have been Keke's husband, backbone, friend, confidant, and support system. I have loved, raised, supported, and cared for every child in our family (biological or not), including our son who is currently battling leukemia. I will continue to be that person and do all of these things, but I will not be her husband."
Michael also revealed how toxic their marriage had become due to his wife's behavior.
"I can no longer allow our children to live in a toxic environment and, because I love Keke, I can no longer accept toxic behavior. A home should be a refuge of peace from the inequity and harshness of the world."
Michael commended Keke for being a great mother but recognized that there are harsh realities they have to face despite the awful timing of their divorce.
"There is a healing that needs to take place and I have faith that it will happen. There is never a good time for a family to deal with harsh realities, but as long as we keep God first we have to know that our battle has already been won."
Now it appears Michael has met someone else who's professing her love for him on social media.
"An Everyday Crush but you can call him MONDAY....#MyMCM#MCE #MichaelJamar #Live #Love #Laugh#AllSmiles #UnexpextedBlessing#IfOnlyYouKnew#GrassIsGreener #Happy"
The hashtags alone reveal how happy they are and it remains to be seen whether Keke will be happy for them as well. She seemed pretty unbothered in a video she posted after her show on Monday.
Keke and Michael were married in 2010 and in three years were raising six children together. Keke's first three children were born from her first marriage to Rahmat Morton which began when she was only 18. She has two children with Michael who also has another child from a previous relationship. By 2015, Keke and Michael already had eight children combined and in April 2017, Keke announced she was pregnant with her ninth child.
Please fill in your e-mail so we can share with you our top stories!