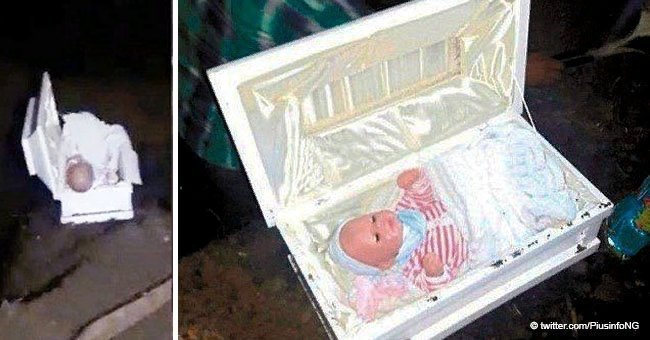 Dad in mourning opens casket of his late newborn only to discover a doll inside
A woman who said she was pregnant with twins for nine months, faked the death of one of the babies, watched over it and buried a doll as part of the deception of her partner.
The unusual story happened in Honduras, where on July 27 Rosa María Castellanos Díaz left the community of El Coyolar to, supposedly, travel to Tegucigalpa, where she would give birth to her children in the Hospital Escuela.
However, at night she telephoned his partner, a member of the Armed Forces, to give him the very bad news: one of the twins had died after childbirth.
According to La Prensa de Honduras, the woman told her relatives that the next day she would be back in El Coyolar to watch over and bury the newborn. His brother, meanwhile, would be admitted to the healthcare facility.
The woman arrived in El Coyolar last Saturday with a small coffin in her arms and told her relatives that they could not see the child because the drawer was sealed and the hospital has prohibited from opening it
The same day in the afternoon the mother said that it was time to bury the baby and they buried him after a short wake. Read more on our Twitter account @amomama_usa
But the story told by the woman did not convince everyone, several residents of El Coyolar were incredulous. One of them, a friend of the couple, urged nearby friends to unearth the coffin where the remains of the child supposedly rested.
And there they found a surprise, instead of finding a corpse, they found a plastic doll. Once the truth is known, the woman fled the place.
The fact "filled us with surprise, then in the night we went to dig it up and when we pulled out the drawer what we found was with a doll inside a white coffin," said Ismael Mejia, Melvin's friend.
As reported by the Mirror, after learning of the deception, Melvin decided not to press charges against his partner who, however, escaped El Coyolar.
The local Public Prosecutor's Office investigates the whereabouts of the woman, against whom there is still no criminal accusation.
Please fill in your e-mail so we can share with you our top stories!