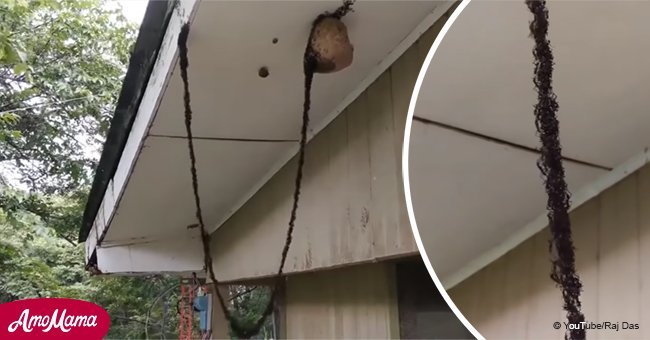 Watch these army ants build a hanging bridge to attack a wasp nest
Astonishing footage of army ants in action has taken the internet by storm.
An electrical engineer Twitter user, Fransisco Boni, captured a video of numerous army ants working together to build a bridge that would help them invade a giant wasp nest in Brazil.
The exceptionally organized ants were captured on camera by Boni, and he shared his amazement at the sheer coordination of a group of insects.
According to Lingolex, the size of an ant's brain and the number of its brain cells is not comparable to that of humans, individually. But a colony of 40,000 ants has collectively the same size brain as a human.
Despite the comparison, there is no scientific comparison between the complexity of intelligence of a colony of ants and humans.
Read more about army ants on our Twitter account @amomama_usa.
Boni captioned the brief video expressing how much he was impressed at the computational capabilities of the army ants.
"Attack of legionary ants (also known as army ants or marabunta) to a wasp honeycomb. Impressive the level of swarm intelligence and collective computation to form that bridge."
Fransisco Boni, Twitter, August 5, 2018
The video instantly went viral, and it has received over 930,000 views, 13,000 retweets, and 29,000 likes.
He added more information about the video and said that when the wasps are attacked in such a way, they prefer to escape. The ants do not leave their invasion until they have looted every inch of the honeycomb.
The honeycomb consists of larvae, pupae, and eggs, along with a few adult wasps that fail to escape as soon as the invasion takes place. The ants are capable of invading the bridge even across water.
Boni explained that the ants find it more useful to follow the trail over that goes upside down. Another user, Sam Atman, chimed in the conversation and added that the ants couldn't carry a significant load if they are upside down.
Ants are capable of carrying weights up to 10-50 times their weight without any stress. According to Nature World News, some ants are even capable of handling pressure over 5000 times their body-weight.
The video not only displays the ants' incredible weight carrying capacity but also the engineering skill through their collective coordination.
Please fill in your e-mail so we can share with you our top stories!