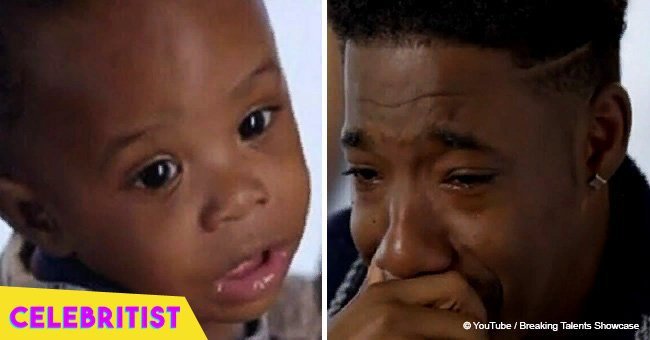 Marcio Donaldson brought adopted son to 'American Idol' audition and wowed the judges
This brave man hopes to be an inspiration not just to his nephew, who he calls his son, but also for every dreamer out there.
"American Idol" is no stranger to emotional stories from contestants. Talented people from all across the country do everything in their power to have a chance and audition for the show, and the mix of different backgrounds and life experiences makes for a very good piece of reality television.
Season 16 of the show was no different, but very few contestants had a more enthralling backstory than Top 24 finalist Marcio Donaldson. He captured the hearts of the audience when he showed up to his "American Idol" audition with his infant son, Rashaad.
After trying out in season 15, and failing to pass, Donaldson decided to give the show a second try. This time, he was set on going to Hollywood with the 6-month-old baby boy he adopted from his sister after authorities stepped in due to her substance abuse.
Yes, Donaldson took on the responsibility of caring for his sister's new baby. She was dealing with a drug problem; and when authorities came to check on the newborn, they only two options for the adorable boy.
Donaldson and his sister grew up in Compton. They lived with their mom in a roach-infested home, and even though she did her best, child services ended up taking the kids away from her and put them into the system.
In an emotional video shown before his audition, he related how he got to adopt his nephew:
"The police and the social worker, they came to my home and they brought him and here was this week-old baby. They said 'You have to decide if you will keep this child or he goes into the system." I looked down and i said 'I'll take him.' I didn't want him to go through what I went through."
The young singer has had to face many obstacles in his young life, but he believes is music that kept him focused on living the best life he can. He gives credits to a program he took part in at the Watts Tower when he was younger. Talking to ABC7, the dotting father explained:
"I found my outlet. And I want to let others know, find your outlet. When there were times when I was feeling sad or lonely or abandoned, I would sing and my day would switch from that dark depressed stage into a sort of bliss."
Before going into a rendition of the song "Jealous" from Labrinth, Marcio said this of his son:
"I had no idea what I was doing. But he's actually a real gift. I know it was the right decision. And he's changed my life."
All the judges gave Donaldson a nod, meaning he moved on in the competition.
"God bless you for being an incredible, stand up man. You're an incredible example," said Katy Perry, praising him.
Donaldson reached the Top 14 on the show, but unfortunately, he was eliminated and didn't pass to the next round.
Please fill in your e-mail so we can share with you our top stories!