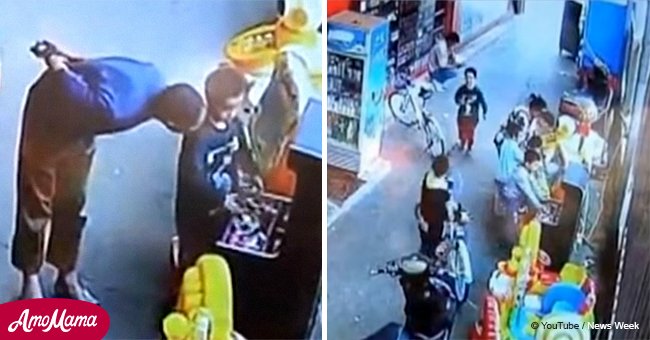 Chilling moment six-year-old boy was kidnapped on a street in broad daylight

Six-year-old Chuan Chuan from China was abducted by a stranger in broad daylight. He was eventually rescued miles away from his home.
A surveillance camera captured a stranger kidnap the six-year-old on a busy street in Kunming while he was playing a video game. The middle-aged abductor had casually approached the child, and when he noticed that young Chuan was not monitored by anyone, he lifted him up.
According to Daily Mail, the CCTV footage caught the abductor's face on camera as he kidnapped Chuan.
In the video, the stranger was seen approaching the boy as he initiated a brief conversation with Chuan. Chuan was engrossed in his video game and did not pay attention to the man.
Read similar stories on our Twitter account @amomama_usa.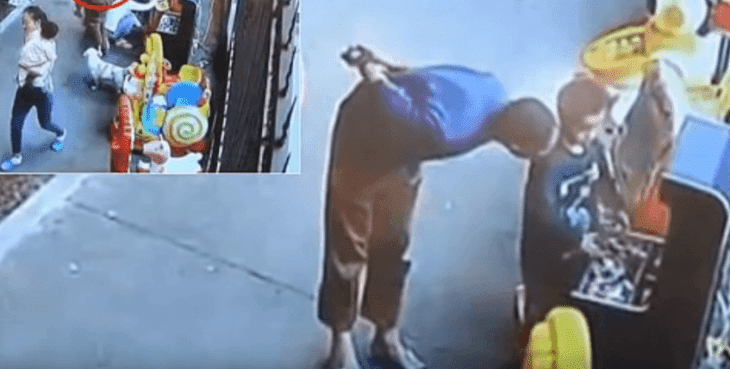 Source: Youtube
According to Kunming TV, the incident took place last week on Thursday in Baofeng village in Kunming, China.
Chuan was wearing a green top and red trousers and was surrounded by other children outside a supermarket playing the video game installed on the street.
When he was approached by his alleged kidnapper, the other children had dispersed. The man spoke to Chuan for a while before going away.
He even clutched Chuan's head in his hand to scope any resistance from the child or other's around him.
Source: Youtube
The video showed the man returning to Chuan. Only this time, he blatantly carried Chuan in his arms and walked away from the scene discretely.
Mr. Long, Chuan's father, who was a street vendor, was asked by the officials if he knew who the kidnapper was. He denied knowing the person in the footage.
Long told the cops that he left his son alone to play that day as he rode his tricycle around to sell fruits throughout the city.
Long filed a missing person's report for Chuan after he didn't return home. He shared that he desperately waited outside the market every day looking for Chuan.
Eventually, the officials found Chuan on Saturday night in a distant city Baoshan, approximately 250 miles away from Kunming. The child told the cops that stayed with a 'strange uncle' who gifted a toy car before taking him away.
Chuan was returned to his parents, Mr. Long and Mrs. Li. The family told Kunming TV that they were relieved that their son had returned home unharmed.
Please fill in your e-mail so we can share with you our top stories!