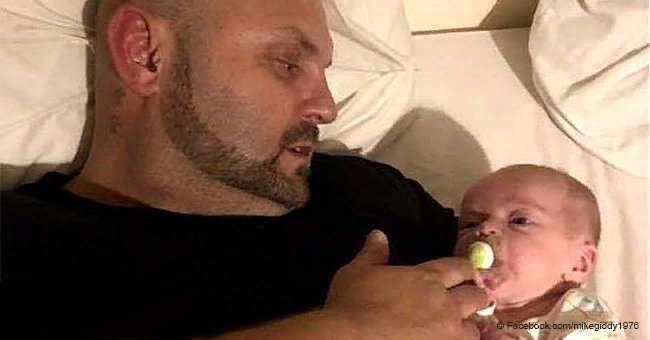 Dad suddenly passed away while holding his 8-month-old son in his arms

It was such a heartbreaking moment when a father kissed his eight-month-old son goodnight, only to pass away while holding his baby boy in his arms a few moments later.
A report by Grimsby Live reported that Mike Hollingworth died in his home in North East Lincolnshire, England, last June 16, 2018.
Mike Hollingworth, known as DJ Giddy from Grimsby, suddenly didn't wake up and died in his sleep peacefully, according to his grief-stricken girlfriend and baby mama Hollie Bridgewater. Before his final rest, he told his baby "I love you."
Sharing details of the shocking event that shook her life and that of her newborn son, she said that the fact that the last person who cuddled him before he peacefully died was their son brings her comfort. Hollie says that although she lost her soulmate, he will live on in their son.
"I watched him die. He died peacefully. He wasn't in pain. I just thought he was snoring. He told me he loved me and told me not to worry. The last person he cuddled was Sonnie – and that brings comfort"
Hollie adds that what makes everything even more heartbreaking is the fact that their son Sonnie while have to live without his amazing father. She noted that he did not even reach their son's first birthday or first Christmas. Instead, he lived long enough for him to spend some time with him before passing away.
DJ Giddy was famous among the neighborhoods in Cleethorpes and Grimsby, and his sudden death has shocked those he has encountered in his life. Bridgewater has since received more than 700 messages of condolences after reporting about the news.
Friends of the DJ have posted photos and loving tributes for the late music lover, sharing about their memorable times together. One particular friend named Katie Fox had some of the nicest things to say about her old pal.
"Gonna miss this guy soooo much! 20 odd years of friendship amazing memories! Banter was second to none rekon that's were I got my piss taking banter from! Growing up with Mike Giddyand Lee was so much fun will never forget the one liners! One that sticks out was when a gremlin looking woman was in legends and they said over the microphone "don't spill water on her she will multiply" getting pizzas on tic and obviously never paying or paying by cheque lol.... so many funny memories! He was part of my family and always will be..... Never ever forget this man he was ace! Heart of gold and a cheeky smile! #legend his gorgeous kids are his legacy and his partner is beautiful inside and out... always and forever"
Aside from Sonnie, he also had two other children, Brody Hollingworth, 7, and Gage Gallagher. His girlfriend Hollie said she knew that he was proud of her and their children, but did not realize how loved he was and how proud they were of him, too.
The DJ also left behind his mother Julie, father Albert, brothers Alan and Stewart, and his "best friend" uncle Andy.
Please fill in your e-mail so we can share with you our top stories!