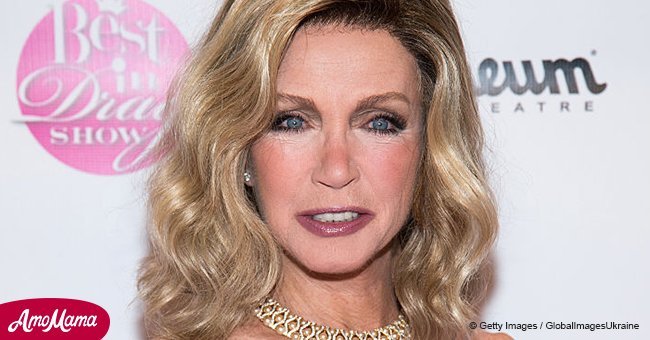 Donna Mills' daughter is as gorgeous as her mother

The American actress and producer is also a mother to a beautiful young daughter who is absolutely stunning in her own right.
Unmarried and a mother, Donna Mills is perfectly happy to be untraditional in Hollywood, carving out her own path for herself and her 23-year-old daughter, Chloe.
77-year-old actress and single mother Donna Mills has her own views on on marriage and parenting, ones that are quite different to what society deems the norm.
She took to her Instagram account to share a beautiful photo of herself and Chloe over the Christmas holidays in 2016, and the image shows the striking differences between the pair, but also highlights their close bond as mother and daughter.
Chloe is evidently quite a bit taller than her mother, with a beautiful caramel tone to her flawless skin. She has long dark hair to her mother's light blonde, and dark eyes to her mother's piercing blue.
Both opted for Christmassy red, with Chloe in a long dress and Mills in a red skirt, black shirt, and a gold glitter jacket.
The two women were standing with their arms around one another, highlighted by a pretty backdrop of fairy lights.
"I took a little social media break over Christmas to be with family. I have tons of wonderful memories to share! Here is a great shot of Chloe and me at our Christmas party!" she wrote in her caption.
The blonde beauty has been outspoken about her lack of desire to get married. She once told an interviewer that the thought of marriage did not make her feel any more secure than she felt being unmarried.
Even though she never felt the desire to marry, the actress did want to be a mother. That's why she adopted her daughter Chloe in September 1994, when she was only four days old.
In September 2017, when her daughter turned 23, she took to her Instagram account to share a beautiful throwback photo of herself with Chloe to wish her a happy birthday.
Mills has said that she enjoys being a single mother. She felt proud of her strong relationship with her adopted daughter, and would therefore only marry a man that could fully accept Chloe as his own daughter.
In 1983, during an interview with People Magazine, she expressed the importance of her production company and two shows she had in the works, because of the way they protrayed women.
"They are special and important to me because they show a woman the way I think women should be portrayed these days, as an independent entity, not a victim…someone who is strong and makes her way in the world because of her abilities, not because she has the right man."
And Mills has taken that quite seriously in her own life, never feeling like she needed a man to validate her role or existence. To this day, she remains unmarried, but she has had notable relationships over the years.
One long-lasting relationship she had was with producer Richard Holland, with whom she is still friends to this day. The pair started dating when Mills was in her early 30's, and were together for a number of years, but never tied the knot, never even living together.
Today, Mills has been in a relationship with actor and producer Larry Gilman for nearly 17 years, but the pair has never talked about their plans for an engagement or marriage publically.
Even though they have never gotten engaged, they are both very happy in their relationship as it stands.
Above all else, Mills has always made it clear that her daughter is her number one priority in life, and that's something which no proposal could ever change.
Please fill in your e-mail so we can share with you our top stories!