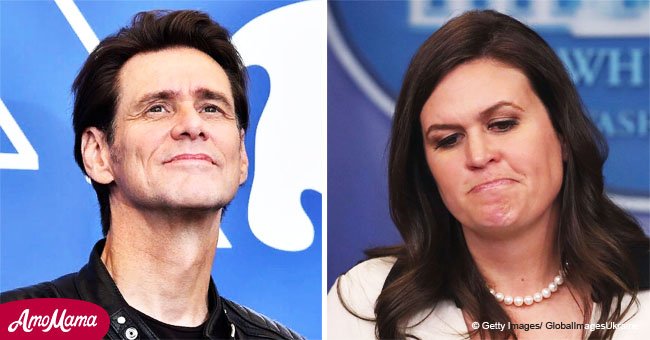 Jim Carrey Defends His 'Ugly' Sarah Huckabee Sanders Cartoon: 'I Drew Her Essence'
The actor, who has lately been publishing abstract yet pungently sarcastic political paintings, said that it was his natural reflex to the state of the Trump administration.
Jim Carrey was recently at an event promoting his latest series on Showcase titled 'Kidding,' when he opened up about his controversial politically themed paintings, as reported by The Daily Beast.
Asked during a press tour hosted at the Television Critics Association earlier this week, Carrey's initial response was that creating art with a political undertone was not a conscious choice he made.
Rather, he described it as a form of his natural reflex to the way the country is currently being run.
His politically inspired art includes elaborate paintings and sketches of President Trump and Sarah Huckabee Sanders, among others.
Read more about Jim Carrey on our Twitter account @amomama_usa.
Carrey has used his art to voice his opinions, perceptions, and concerns about the Trump administration, and has been known to share these pieces on social media with hard-hitting captions.
Explaining his motivation to create such art, Carrey stated that it was his way of reacting to the things he saw and did not like.
The actor shared his view that his art was a rather non-aggressive way to react to the disturbing reality. To him, the art that may seem provocative to some is a way of joining people with similar views and acknowledging their voices.
Carrey added that the news-making paintings have also been cathartic to him, and they were his outlet when he could not bear to watch the bad things happen around him.
He highlighted that he always tried to mold his thoughts into art that did not look crass. That said, he also defended any of the art that might appear insensitive or obnoxious, stating that sometimes, the crassness is inevitable.
Among his most talked about paintings is the one depicting Trump in a bathrobe stroking his nipple and gorging on a double-scoop ice cream.
The caption posted for the painting online stated that the Smithsonian National Portrait Gallery should consider making the painting President Trump's official portrait.
Trump has also been the target in many other paintings, including the one in which he is sketched looking like 'The Wizard of Oz's Wicked Witch of the West.
Even Senator Marco Rubio was portrayed in a dramatic way in Carrey's work – with his hands dripping with the blood of young children, which was a bold jab at Rubio's NRA connection.
But the more recent paintings that caught wide attention was that of Sarah Huckabee Sanders, which was based on the refugee crisis.
The painting got him in hot water for being perceived as a mockery of Sanders' looks.
However, Carrey stated otherwise and added that his work was misinterpreted, just as comedienne Michelle Wolf's joke about Sanders was a few months ago.
Carrey clarified that he never used or meant the word 'ugly' to describe the physical appearance of Sanders.
He insisted that he had only drawn her essence, emphasizing his belief that ugliness was not associated with a person's looks but to how he or she was within.
While Carrey took his time to clear the air on the intention of his art, his fans are also looking forward to watching him on 'Kidding,' in which the comedian is seen donning the role of a children's TV show host.
Please fill in your e-mail so we can share with you our top stories!