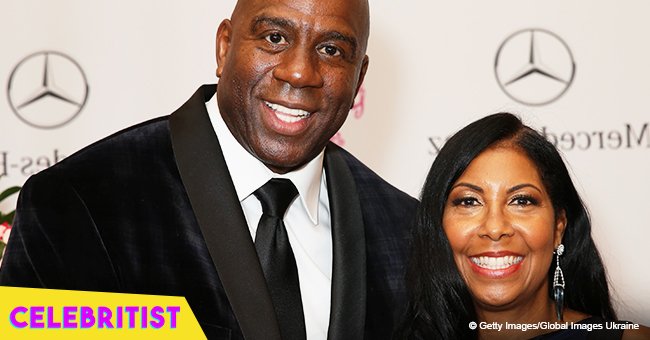 Cookie Johnson stuns in satin dress on date night with husband Magic Johnson
The couple have been through some incredibly trying times together, but have stuck by each other's sides through thick and thin to celebrate 27 years of marriage this year.
Earvin "Magic" Johnson and his wife, Cookie Johnson, have been married since 1991. That same year, they learned that Cookie was pregnant, and that her husband had been diagnosed as HIV positive.
The news of his diagnosis came just 45 days after the couple tied the knot, and their immediate panic was for their unborn child, Cookie told hosts on Good Morning America. She got tested, and waited an agonizing 10 days to hear that she did not have the virus.
Fortunately, this meant that her baby boy would also not have it, and they welcomed their healthy son, EJ, in June 1992.
Cookie also revealed that she hadn't worried about how her husband had contracted the virus, because she was too busy worrying that he might die. In 1991, not much was known about the virus.
"He said, 'If you want to leave, you know, I don't blame you. It's OK. I understand.'' Then I said, ''Are you kidding me? No. I love you. I'm gonna stay here and help you live. I'm gonna stay here and we're gonna beat this thing. We're gonna figure out how to beat this thing,'" she explained.
And that's just what she's done. The couple will celebrate their 27th wedding anniversary later this year, and have raised two children together.
Cookie recently took to her Instagram account with a beautiful photo of herself and Magic on an evening out for a date on what appeared to be a yacht.
Cookie was dressed to the nines in a satin red dress with an asymetrical hemline that fell to just above her knees at the front. She paired the dressed with frilly matching red shoes.
Magic wore a black Gucci t-shirt with the brand's logo in the center, and a pair of black pants.
"Heading to dinner with my [heart]!! #FamilyIsEverything," Cookie wrote in the caption.
The couple has also come to terms with their son coming out as gay, something they both struggled with in the beginning.
Cookie came to terms with EJ's sexual orientation long before her husband. She explained her thoughts on it while on Good Morning America.
"Ultimately you want your child to be happy. But I also knew that Earvin didn't understand. And I was still trying to figure it out. I'm not going to sit here and say that I understood that he was gay at that time, because I didn't. I just knew that this is what made him happy. And as time went on, it never changed."
Magic only came to terms with it after a difficult conversation with EJ.
"I had to come to realize that this is who he is, and he's going to be happy. And so why am I judging him?" Magic said."'I'm his father, so I got to be the first one to say, ''It's OK and I love you. Now, how can I help you?'"
The couple has since embraced EJ's sexual orientation, and often share how proud they are of him.
Please fill in your e-mail so we can share with you our top stories!