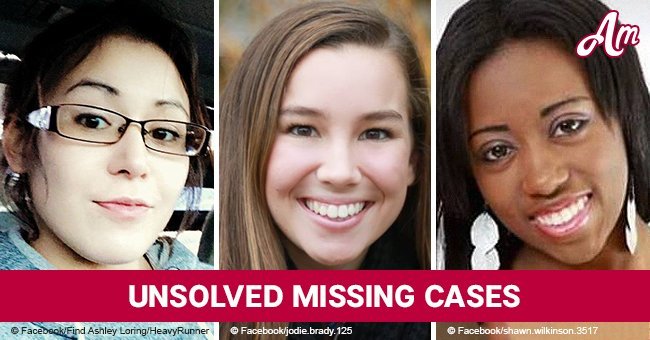 Unsolved: 8 people across America who still remain missing
These eight young people have gone missing in the United States, and authorities are still actively searching for them in hopes of finding them alive.
It's always terrible for loved ones when someone goes missing without a trace. It's even more harrowing when that person is young, seemingly with their whole lives ahead of them.
According to Insider, National Crime Information Center had more than 88,000 open missing persons cases at the end of 2017.
Mollie Tibbetts
Tibbetts had been looking after her boyfriend's dogs at his home in Brooklyn, Iowa, when she disappeared on July 18 while he was at work 100 miles away.
The 20-year-old had been about to start her sophomore year at the University of Iowa at the time of her disappearance.
Akia Shawnta Eggleston
Back in May 2017, 23-year-old Eggleston went missing in Baltimore on the day of her own baby shower. She was eight months pregnant at the time.
Eggleston also had a three-year-old daughter, and was supposed to be on bed rest at the time of her disappearance. Her family called the authorities to report her missing when she failed to show up for her baby shower.
She was last seen on surveillance footage at a bank, and in person at her own home.
No one has come forward with information regarding her whereabouts as yet, but according to a Facebook page set up by friends to search for her, the FBI is still actively investigating her case.
Rita Gutierrez Garcia
The 34-year-old was reported missing by her three sons when she failed to return to her Colorado home in March 2018. She had last been seen at a bar with friends in Longmont, Colorado.
She failed to show up to her younger sister's baby shower the next day, and her sons, aged 18, 13, and 9, became worried when she wasn't home.
Although she remains missing, police have identified a suspect in her case. 29-year-old Juan Jose Figueroa Jr. is believed to be connected to her disappearance. He has not been charged, but is being held on an unrelated rape case.
A GoFundMe page has been set up in the efforts to find her.
Jonathan Fraser
Fraser was just 21 years old when he disappeared from his apartment in Honolulu at the end of July 2016. His car was found over a week later parked on the side of a road less than a mile from his home.
Not one sighting of him has been reported since his disappearance.
Fraser's mother, Shelly Miguel, has felt that foul play was involved since the very day he went missing.
"My son didn't just disappear, he would never. Please be strong enough to come forward to speak to FBI directly," she told Hawaii News Now. "I just want my son. I just want my son, please."
Ashley Loring HeavyRunner
The 21-year-old disappeared from Montana's Blackfeet Reservation in June 2017.
The FBI has partnered with the Bureau of Indian Affairs in the investigation surrounding her disappearance. Several persons of interest have been identified, but their names have been withheld from the public thus far.
Her sister has set up a Facebook page in the search for her, where updates are shared.
Jake Wilson
The autistic 16-year-old disappeared from his La Porte City, Iowa, home in April 2018. He had gone for a walk next to a nearby creek, and never returned.
Wilson's mother and stepfather, Megan and Jeremy Neiswonger, have gone on a city-wide search, and even had excavators search the creek for their son's body, to no avail.
"He is autistic, but he is high functioning. He can do everything as a 16-year-old, but with limitations and guidance," Megan told The Courier. "He was starting to get to the point where he was more independent. Letting him go on his own for a little bit was not doing harm, because that showed him, 'We are giving you the trust.'"
Kandyce and Karmen Matos
The sisters are a recent disappearance, having been reported missing on August 4, 2018. Kandyce and Karmen were 11 and 16 respectively, and were last seen by their parents at 11 PM that night.
When they went to wake the girls the following morning at 11 AM, they were not in their bedroom. At this stage, police believe the girls are together.
Please fill in your e-mail so we can share with you our top stories!