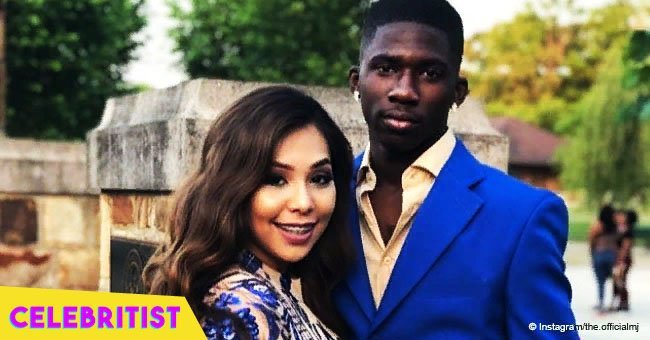 Latina teen turns $50 Fashion Nova dress into gorgeous prom gown
Many people went crazy for this girl's gown when her boyfriend, MJ Johnson, posted photos of the couple on social media recently. They wanted to know where she got the dress, but never expected the answer.
Johnson, who usually mimics major celebrity fashion moments for fun on social media, explained that he found his girlfriend's prom dress on Fashion Nova for only $50 and then, they added the details.
In an interview with Teen Vogue, Johnson said: "My dream is to be an actor and social media comedian. I've never really thought about being a fashion designer."
The young couple looked terrific in their bright blue outfits. Nazmayde Castillo wore her altered dress and Johnson wore a metallic blue tuxedo that matched perfectly.
Though Johnson helped Castillo pick out her dress, she came up with the idea to add something special to it, and her aunt ended up making the altercations. "The skirt took like two days because she had to buy more flowers," revealed MJ.
After the dress was done, they added "a little touch of blue glitter" to add the final touch, and the result made the young couple become a viral sensation.
When Johnson's inbox blew up with people asking about his date's dress, he took to Instagram and wrote:
"Ok since ppl inboxing me asking where she gets her dress from …. I found it on @fashionnova for her and she had the idea to add flowers at the bottom … that's it a $50 dress is all flowers was all it took,' adding, 'we both creative as hell."
A lot of fans of the funny influencer left supportive comments about Castillo's dress.
Instagram user @nanaswalk wrote:
"I think this is fabulous! It's ridiculous to spend too much money on a prom dress. This shows ingenuity and is creative! And its a beautiful dress on a beautiful girl! And the young gentleman isn't too bad himself!"
"I am so excited that young people like yourselves are embracing the idea of shopping around to make your ideas come to life! This skill will definitely take you far!!! Keep doing what you are doing. Lives your dreams."
To add more fuel to the fire, MJ recently brought back the dress, but this time, he was the one wearing it. The Young man shared a series of hilarious pics where he's donning the dress that, surprisingly, fits perfectly on his body, while Castillo is seen wearing his prom tuxedo.
"Givem a lil some to remember!! #fashionnova#nazmaydecastillo #prom2018 #prom2k18#prom #blue I can buy designer but this fashion nova fit." [sic]
Please fill in your e-mail so we can share with you our top stories!