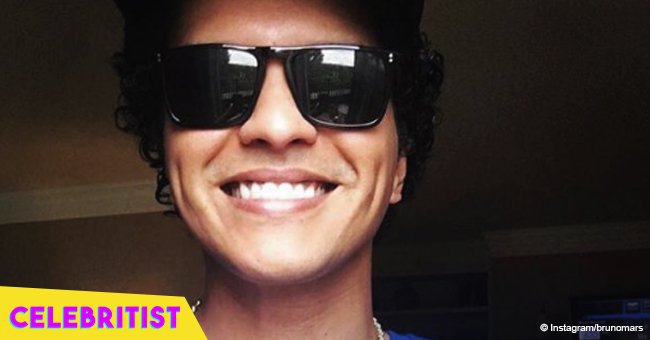 Bruno Mars kisses longtime girlfriend in sweet pic

Bruno Mars' girlfriend of seven years shares an intimate moment with the singer as she looks forward to a long future with him.
Amid his success as a singer and performer, Bruno Mars has had one woman by his side, his girlfriend Jessica Caban. Though she often chooses to stay in the sidelines and skip his red carpet events, she's never lacked in showing her appreciation and love for her boyfriend of seven years.
Bruno and Jessica's love story began at first sight. They met in the model's hometown of New York City. Bruno was eating at the Co-op restaurant in New York's Hotel on Rivington when he spotted Jessica, beautiful, vivacious and animatedly chatting with someone in another table. It didn't take long before the award winner approached her and soon after, they became an item.
Flash forward to 2018 as Bruno accepts his Grammy Award for record of the year. In his acceptance speech, he acknowledges Jessica as his "rock."
"My lady, Jessica. I love you baby. Thank you for being my rock and being on my side throughout this whole process."
They may not be headline fodder as Bruno prefers to keep his relationship private, but the couple's love rings strong and it's clear the two are destined for forever. In Jessica's latest post, she pays tribute to their longstanding love affair as she foresees their future together.
"Can't wait to replicate this photo when we're old my love," she wrote.
The photo Jessica was referring to showed the couple entangled in a passionate kiss. Both in black, they were leaning towards each other as their lips touched.
Fans gushed over the image describing the lovers as the "perfect couple."
"you guys are the cutest. Love you both"
"You two are amazing together"
However, with fans' acceptance came a few who didn't even know Bruno had a girlfriend. One commenter even thought he was gay.
There was, in fact, a story that circulated in the past referring to the singer as a homosexual. Back in 2016, a CNN iReport emerged claiming Bruno admitted he was a homosexual. A second media outlet also reported he admitted this to a Chicago radio station. The story even went further to say Bruno's admission first started as an April Fool's Day joke so he could test people's reaction after which it eventually led to his admission.
A representative for the star dismissed the stories and Gossip Cop deemed it as "completely fabricated."
Please fill in your e-mail so we can share with you our top stories!