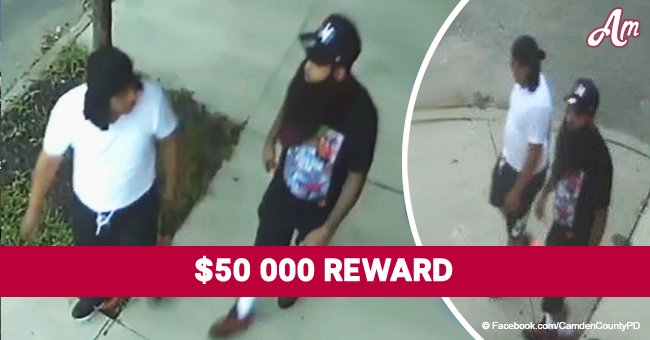 $50,000 reward offered for information leading to the arrest of suspected cop-killers
Two police officers were shot while on duty by two individuals and big rewards are now being offered to those who might be able to identify the attackers.
The incident took place on Tuesday, August 7, 2018, at Broadway and Mount Vernon Street, in Camden. The officers were inside an unmarked car when the shooters parked beside them.
According to the New Jersey State PBA, an offer of $20,000, along with an extra one of $30,000 from The Fraternal Order of Police, has been posted in hopes of encouraging people to help bring the criminals to justice.
The officers, a male and a female, where working undercover and trying to target gangs and drug activities when they were ambushed at a red light by two gunners in a white van.
Authorities said that 10 to 25 rounds were fired at the officers but thankfully the injuries that they sustained weren't life-threatening.
Please follow us on our Twitter account @amomama_usa to learn more.
Rick Kunkel, the President of Camden County Fraternal Order of Police Lodge 218 said that the male officer was shot in the bicep and forearm while the female officer was shot in one hand.
As soon as the bullets started flying, one of the officers stepped out of the vehicle and returned fire but it is unknown whether he was able to injure any of the shooters.
"We consider an attack on ANY law enforcement officer in New Jersey regardless of Union affiliation an attack on one of our own. We want these dangerous criminals brought to justice as quickly as possible and we are confident that this reward will help."
New Jersey State PBA Patrick Colligan, Facebook, August 9, 2018
So far, no possible motive has been found for the attack since both officers were wearing regular clothes. It is possible, however, that they might have been recognized, which lead to the shootout.
Whatever the motive, to Kunkel it is very clear that the gunmen were trying to 'assassinate whoever was in the vehicle.' But this wasn't the first time that police officers have been targeted by criminals.
So far, this is the third incident regarding police officers being shot at while in duty ever since the department took over patrols in Camden back in 2013. Luckily, every single one of them survived the attacks.
Please fill in your e-mail so we can share with you our top stories!