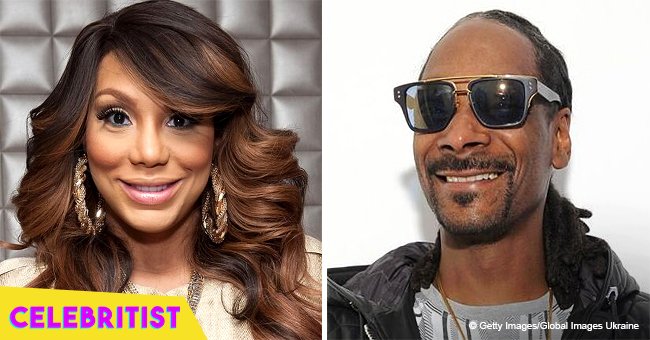 Snoop Dogg and Tamar Braxton share picture together, announcing new collaboration

Tamar Braxton just couldn't wait to announce her newest collaboration, which happens to be with the iconic Snoop Dogg. The singer shared the news to ecstatic fans, who found out that she is about to go on tour with Dogg himself.
Their latest project called "Redemption of a Dogg" happens to be a stage play, which would show them singing, dancing, and rapping all in one show. According to the rapper himself, their show hits a city near you quite soon, so it's best to keep yourself posted on when tickets would be available as these would sell out fast.
Of course, fans went crazy with excitement after reading about the news, and they flooded her comment section with how thrilled they were.
"That's going to be good. Def can't wait for that!"
"Wow who knew!!! Can't wait til u guys stop in Cleveland Playhouse Square"
" CAN NOT WAIT FOR THIS! We need to stay consistent on when tickets will be released because WE ARE GOING! Idc idc. Imma get my life"
This tour is some great news, especially since Tamar has just recently gotten over the drama in her life, which included a Delta Airlines Pilot and even her husband, Vincent Herbert. As previously shared here on Celebritist, Tamar and her sister Towanda had a heated conversation with a Delta Airlines pilot that seemed to have thrown racist remarks at the sisters.
Towanda herself posted a video of a Delta captain talking sternly to both of them. Since uploading the video, it has gotten almost 15,000 likes. In the video, the pilot is heard telling the two women how things operate on the plane, much to the shock of the two women.
"Here's how this works. My flight attendants work for me. They give orders that come from me. So if you get an instruction from a flight attendant, I need to know that you are willing and able to do what you're told to do. Are you willing and able to do what you're told to do by a flight attendant? Don't ask me any questions. Answer yes or no."
The pilot quickly turns around and headed towards the cockpit before any more trouble could have ensued between the two groups. Towanda claimed that the pilot's actions were racially motivated, but Delta denied the claim and said the Braxton group was causing delays for the flight.
"It's crucial for the safety of every flight for customers to be willing and able to follow crew instructions. When these customers exhibited some unusual behavior and refused to acknowledge our flight attendant's instructions, the captain addressed them directly to ensure the safety and security of the entire flight."
While the airline denied claims of their crew being racist, they are investigating signs of discrimination as it had been reported on numerous news sites worldwide.
Please fill in your e-mail so we can share with you our top stories!