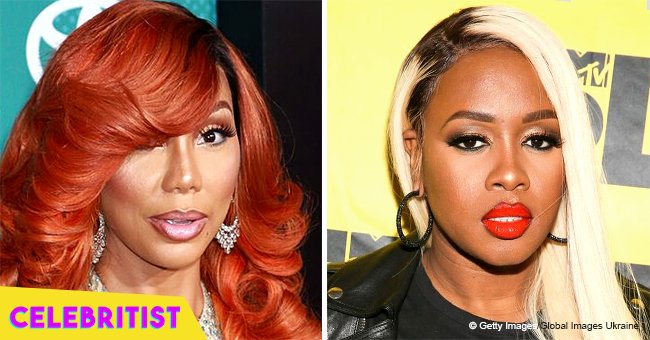 Tamar Braxton gets dragged after sharing picture with 'felon' Remy Ma

Singer Tamar Braxton, best known for "Braxton Family Values," took to Instagram to share a photo of herself, rapper Remy Ma, and hairstylist Terrence Davidson.
In the post, Remy appeared talking with a mic while the other two were looking at her and laughing in what seemed to be a show wherein the trio got together to speak to the audience.
Tamar was wearing a grey sweater covering a white shirt and a matching skirt. She was not wearing any wig, so her bald style was a very remarkable aspect of the image.
Terrence put on a dark shirt and a New York Yankees baseball cap, and Remy opted for tiny denim shorts and a white shirt. The picture showed three friends having a good time in casual outfits.
For the caption, Tamar wrote "when it's really all love," and tagged her two friends. Even though it was an adorable gesture of friendship, several people took to the comment section to write their negative messages.
One of them was Instagram user @eatpraylovexo_ who wondered why Tamar was associated with a "felon," referring to Ramy, who served six years in prison after being involved in a shooting.
Others, like @palmkimberly, urged Tamar to grow her hair back as she didn't look good being bald. However, several other people defended both Tamar and Remy in the same post.
@itsallmine7 confessed that Tamar looked beautiful with and without hair. @43vercandy chimed in and said that even though Remy was in jail, her heart was as good as gold and that everyone makes mistakes.
That photo was uploaded only days after Tamar had an altercation with the staff of Delta Air Lines while on the plane.
In a video shared by Towanda Braxton, Tamar's sister, the pilot of the flight both women were in was portrayed asking the singer whether or not she would follow the flight attendant's instructions as they came directly from him.
As soon as Tamar said yes, the man rushed back to the pilot seat. In the caption, Towanda set clear that her sister got ridiculed by a pilot for "flying while black" on Delta. "I guess being a diamond and a double million miler don't [sic] matter," she added.
Tamar later pointed out that she didn't consider the problem was driven by the color of her skin but by how people see her on TV. She filed a police report against the employee whom she argued.
Please fill in your e-mail so we can share with you our top stories!