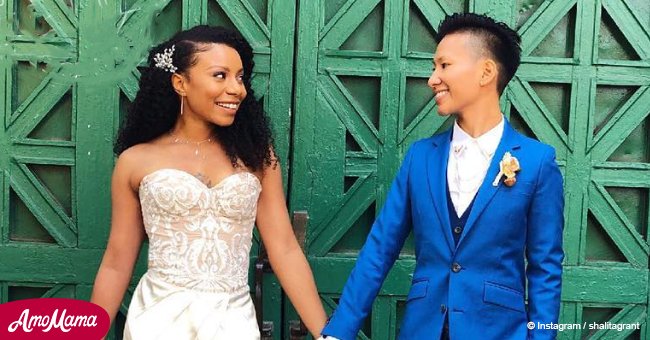 'NCIS: New Orleans' star marries her girlfriend in an intimate ceremony
The actress and her wife met almost two years ago, and decided to hold an intimate ceremony to celebrate their wedding with minimal witnesses.
"NCIS: New Orleans" actress Shalita granted has taken on many roles during her career, but she's just signed up for a new one: wife. She and commercial director Sabrina Skau tied the knot on August 8 in San Francisco's City Hall.
The couple had just 25 guests in attendance, and followed the ceremony with a private celebration at someone's home in Palo Alto. The reception reportedly included a five-course dinner and lawn games.
"The most important thing for us is that it would be a day for us to connect with each other," Grant said. "We're not a traditional couple, so it was really important for us to do something that represents us and our relationship."
The couple chose San Francisco's City Hall for a symbolic reason, because it was the place where the first same-sex couple were married in the state.
Grant wore an interesting dress, with a strapless corset bodice with a sweetheart neckline, and a wide slit right up the front of the satin skirt. Underneath the dress had lace leggings with the same pattern on it as the top.
She wore a pair of baby blue pointed-toe heels, and carried a large bunch of orange and yellow flowers.
Skau wore an electric blue suit, with a slightly darker blue waistcoat and a white shirt.
Grant and Skau first met on a dating app in October 2016. Skau popped the question on Christmas Eve in 2017, something which Grant confessed she was completely surprised by.
"I thought it was coming, but it was a surprise," said Grant. "We had bought matching onesies and she proposed while we were wearing our matching onesies. And then we played card games. It was sweet, intimate, joyful and playful."
The couple is looking forward to their future together, with Skau admitting Grant is someone that makes her feel safe.
"She's so self-possessed and supportive and we can always be honest with each other."
"This is the first relationship that I've felt where I've felt really seen and really heard. I feel so loved. And I feel like we can do anything."
Please fill in your e-mail so we can share with you our top stories!