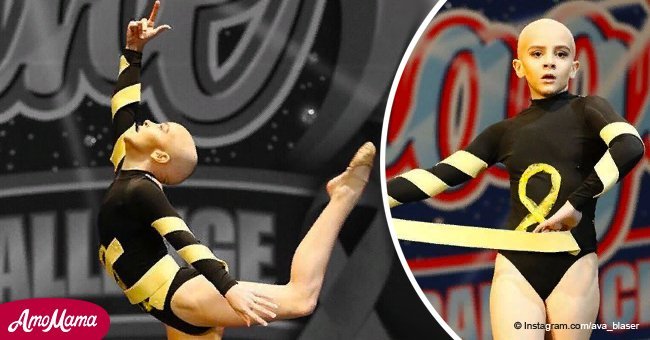 10-year-old girl won't let cancer stand in her way of being an amazing dancer
10-year-old Ava Blaser said that her pursuit of being a dancer gives her something to look forward to during her treatment.
In an interview with CBS News, Blaser shared that she loved to dance even if her routine involved several days of intense chemotherapy sessions.
Blaser was diagnosed in 2011 at the age of three with Stage 5 Bilateral Wilms, which is a form of cancer developed in both the kidneys. She received the news on Father's Day just five days after her first dance recital.
She underwent chemotherapy sessions for 12 weeks in an attempt to save her kidney tissue by shrinking the multiple tumors.
Her doctors had to remove her entire left kidney along with parts of her right kidney.
Read more about Ava Blaser on our Twitter account @amomama_usa.
Currently, Blaser is under the care if Dr. Jennifer Reichek at Chicago's Lurie Children's Hospital.
"She's getting several days of really heavy chemo that makes most people really nauseated and really exhausted. The fact that this kid leaves the hospital and goes to dance class is unbelievable."
Dr. Jennifer Reichek, CBS News, August 9, 2018
Blaser was declared cancer-free in 2012 after her treatment. In the last six years, Blaser visited the oncologist and the nephrologist to monitor any side effects of chemotherapy and the functionality of the remainder of her kidney.
Unfortunately, the 10-year-old's cancer returned on January 29, 2018. The diagnosis was followed by two surgeries and a round of chemotherapy.
Still, Blaser did not let go of her dance classes. She said that she believed in pushing herself despite the physical and mental challenges she faced after the return of her disease.
Three weeks after her surgery, Blaser won a dance competition. In May, she was victorious in another contest with her sister Emma.
Blaser's doctors said that they were hopeful about the inspirational 10-year-old's recovery and were glad to see her positive attitude and her family's robust support system.
Please fill in your e-mail so we can share with you our top stories!