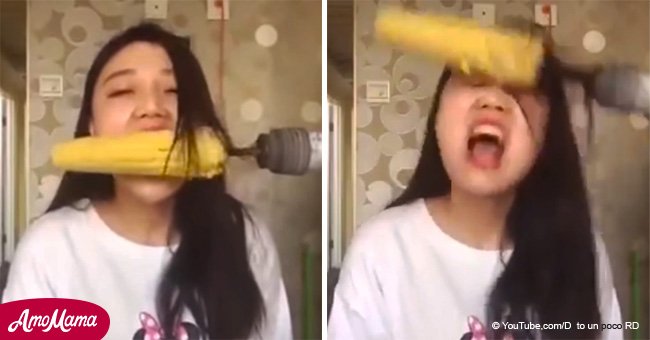 Girl gets creative eating corn on a drill, but instead loses a patch of hair (video)

The video captured the girl's unique corn-eating challenge gone painfully wrong, compelling her to get medical treatment for her bald spot.
A YouTuber from China decided to share the video of a corn-eating challenge with a twist – she attached the cob to a power drill and tried to bite the corn directly off it.
While the challenge started out well, it went south very quickly, as the girl overlooked one key risk. She failed to tie her hair up to eliminate the risk of her tresses getting caught in the rotations of the drill.
The experiment ended abruptly as a bunch of the girl's hair got pulled into the automatic power drill and was painfully separated from her scalp. It was not until she felt her scalp that she realized the damage done.
The footage continued to capture the aftermath of the failed challenge, and the girl showed a round bald spot on the top-front area of her scalp.
Read more about similar stories on our Twitter account @amomama_usa.
However, the failed experiment did not stop the girl from creating more related videos. She shared another clip, in which she was seen visiting the doctor to get her bald spot treated.
The doctor was seen examining the scalp and applying a liquid on the affected area. Eventual videos offered a closer look at the hairless spot, and how she managed to protect it with a bandage.
Even though the Chinese girl's story went viral, this was not the first time that the corn-on-a-drill experiment has failed.
While the girl continued sharing her journey, many viewers suspected that the accident was a fake one, and that the sole aim of the girl was to grab attention online.
This suspicion became the subject of one of the girl's videos, where she denied any form of deception.
The YouTuber also offered another close-up shot of her bald spot and gently pulled at the hair around it to show that they were real.
While she has not mentioned any clear inspiration behind the experiment, the anonymous girl appears to have tried the challenge after watching Eater Yang successfully eat corn attached to a power drill.
Please fill in your e-mail so we can share with you our top stories!