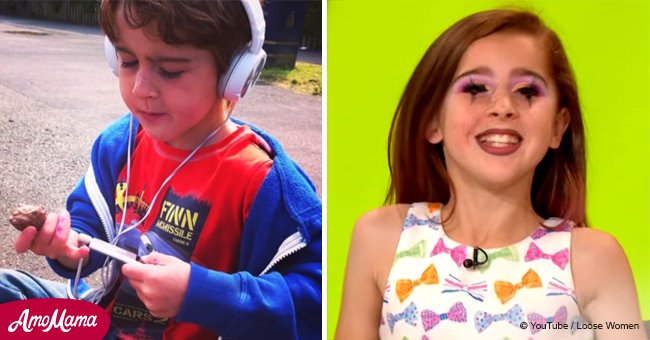 11-year-old boy transforms into drag queen alter ego (video)

He confidently gave the TV audience a glimpse into his female character, and his mother could not be more proud of him.
On a recent episode of ITV's show 'Loose Women,' the panel brought on a uniquely talented 11-year-old boy named Leo Noakes, accompanied by his mother Laura.
It was revealed that Leo was a performer who would dress up as a drag queen. The mother and son from Leicestershire spoke on the show and discussed the roots of Leo's love for dressing up like the opposite sex.
Lauren opened up about her initial thoughts when Leo began to show a liking towards wearing a dress. She had assumed it to be a result of Leo not having a father figure in his life until he turned three.
The mother added that without a male family member at home, Leo had only observed her, and considered that he had imbibed his fondness of putting on women's clothes and makeup from her.
Read more about heartwarming stories on our Twitter account @amomama_usa.
The mother added that from early on, there was a boldness and flamboyance to Leo's persona and that he enjoyed donning characters and wearing high heels.
She initially considered this curiosity to be part of the natural fascinations of a child, and it was not until Leo was six years old that she started to recognize it as something deeper.
Soon, Lauren began to hear from people that Leo should have matured out of any such fascination and that by letting him continue, she might be a catalyst in turning him gay.
It worried Lauren that by not intervening, she was fundamentally changing the person Leo would grow up to become, and it did not help when people told her that gay individuals led very difficult lives in the society.
However, Lauren came to realize that Leo's tendencies did not stem from a dilemma of gender or from herself.
Leo made it clear to her that he was comfortable being a boy. He added, however, that being male did not stop him from loving dresses and other feminine things.
Lauren, who now understands Leo's point of view completely, stated that he wanted to convey to the world that it is perfectly fine to be different.
After a heart-to-heart discussion between Lauren and the hosts, Leo gave the studio audience a glimpse of his dressed-up female persona.
He looked happy and confident as he walked on to the stage wearing a dress, facial makeup and a long wig. Leo called his female alter ego the Violet Vixen.
Courtney Act, the winner of 'Celebrity Big Brother,' also seemed to grasp Leo's message.
Act emphasized that she adored Leo for pointing out the silliness of attaching gender to clothes and appearance, and praised him for expressing himself with boldness and grandeur.
Please fill in your e-mail so we can share with you our top stories!