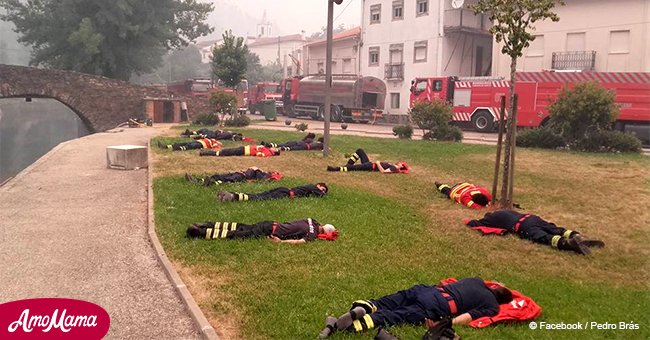 Photo of firefighters laying across the lawn goes viral
A photo of some Portuguese firefighters went viral last year showing them resting after working for 24 hours straight.
Pedro Bras took to Facebook to share the photo on June 19, 2017, of the firefighters in Pedrógão Grande, Portugal.
A firefighter's job is regarded to be an important one. The image posted by fireman Pedro Bras clearly showed how seriously the firefighters take their responsibility.
Read more on our Twitter account @amomama_usa.
Central Portugal is trying to deal with a forest fire; their need for firefighters is astonishing. 1,1,50 firefighters are already working day and night to try to prevent the fire from spreading.
The fire has already destroyed several areas and injured 25 people this year. Last year, Portugal witnessed two ravaging fires in June and October resulting in the death of 114 individuals.
This image depicted firefighters, who despite their exhaustion, persisted with their brave endeavors.
Pedro shared the image which showed some the firefighters trying to rest for a while after spending several hours trying to put out a massive fire in Pedrógão Grande.
"After a full day and a whole night's work, we took a rest and rested for 25 minutes by the river; you can see that the air is dense with smoke."
Pedro Bras, Facebook, June 19, 2017.
Pedro stated that after putting in 24 hours of hard work, the firefighters had taken a short break of 25 minutes; they rested near a river. The photo showed that the air was dense with smoke.
According to a Reuters report, the temperatures had hit an all-time high of almost 116 Fahrenheit on August 5; several other firefighters had agreed to pitch in apart from 13 planes which dumped water on the flames. 160 soldiers were also pressed in the service to help the evacuation efforts, according to AWM.
The photo went viral and received over 9,000 reactions, 1,300 comments and was shared over 5,900 times. Many users said they were astonished by the actions of the firefighters.
Manja Knofel said that each of the firefighters in the world was a hero in his own right. Another user from Paris, Sweetie Racch, said that they deserved "rest and respect" for the amazing job they did.
Antonio Costa, the Portuguese prime minister, had said, "The fireman have done everything they can. Several of them have been seriously injured."
The authorities had hoped that the story from the previous year does not repeat this year.
Please fill in your e-mail so we can share with you our top stories!